We live at the end of the USA, on the Washington Coast, where things have always been drastically different than city life on the I-5 corridor. Born out of a desire for fun, just a few decades ago, Ocean Shores was a party town complete with a resident shipwreck (the SS Catala), celebrities (Pat Boone, Ginny Simms), and the premier "maker of fun," Bob Ward.
Bob was a PR guy from Seattle recruited to Ocean Shores to promote lot sales for the original development group. A master at his craft, not only did Bob create the foundational fun of this little hamlet by the sea, he started its first newspaper, the Ocean Observer.
Here's a tribute to Bob's 1973 Ocean Shores Fog Festival as he wrote about it in the Ocean Observer on March 14, 1973:

Sun "Ruins" Fog Fest as Usual
Despite a last minute attack of inclement weather – a deluge of sunshine and fierce blasts from a gentle, warm breeze — the 1973 Fog Festival went off well, and drew about 4000 – 5000 eager surficionados here on Feb 19.
For the second year, sponsors of the beach's most significant socio-sports events were the intrepid Ocean Shores Jaycees, helped by the Jayettes who, fortunately, are their wives.
Since its historic beginning way back in 1968, the February Fog Festival has been jinxed four out of six times by the lack of fog and the presence of sun. It was bothered once (in 1971) by not being held at all.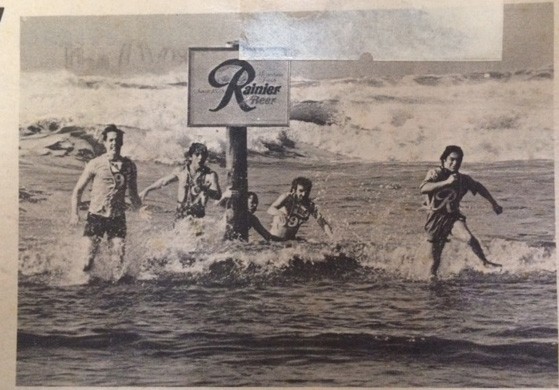 Early surficionados (a few still survive, precariously) say nothing is quite like sitting in the rain and fog, on a wet log, and sipping on a hot muscatel, then slowly rolling off onto the moist sand.
It may not sound as great as they think. And wet logs and moist sand were in short supply this year. The crowd seemed to think the bright sun and warm breezes just fine.
There was talk about giving out "sun-checks" due to the weather but none had been printed out so this problem was easily avoided.
Sun-checks were given out once previously, at the FFF in 1970, and caused a problem. Hundreds of people had to go around all year commenting sympathetically, "Look what those poor devils in Ocean Shores have to put up with — sunshine in February!"
The Festival weekend took a heavy toll on motels and restaurants in Ocean Shores. "No Vacancy" signs were kept burning brightly both Saturday and Sunday nights. Bar towel laundry costs are expected to be high for the next month. The wear on restaurant and lounge cash registers was heavy.
Credit for the filled conditions of Ocean Shores facilities was given partly to the Fog Festival and partly to the three day weekend; first of the year.
The free Monday, result of the federal law moving midweek holidays adjacent to weekends, honors presidents Lincoln and Washington. What do you call such a February 20? How about "George-a-ham Lincington's Birthday."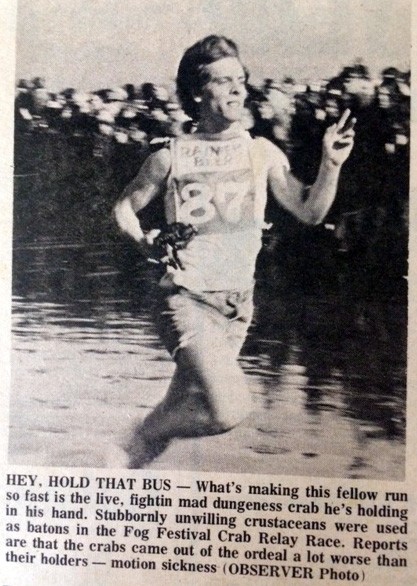 At any rate, the big spectator event of the three-day-weekend was again the throat-stopping, eyebrow-knitting North American Wading Championships, which sees husky, sopping contestants dash out to the breakers, around a pole, and, hopefully, back to the beach. All have made it so far, although numbers have turned a bit blue.
The new wading champion, and thus one of the soggiest athletes in the biz, John Purdy of Aberdeen and Seattle, who scampered out, around the pole, and back in one minute and six seconds, just ahead of three perch and a ling cod.
Other winners of men's heats in the surf race were Phil Stump, Mel Apodaca, and Larry Osborne of Aberdeen. Again, a major share of the surf-waders came from Grays Harbor College, in Aberdeen which retained its reputation for furnishing super-saturated sportsmen.
Fog blanketed most of the peninsula for a few hours Sunday morning, and one event was held in this situation — the Fog Four Wheel Rally, a race by Jeeps and other four-wheeled chuggers on Protection Island with the derelict Catala as a turn point.
Most trophies in the four-wheel event were taken by the Timerlines Four-Wheelers, Aberdeen. Jim Dineen, Timberlines, was the top winner. The four-wheel competition probably will be made an annual affair, Jaycees said.
Pat Katzer, Copalis Beach, flung fiercely in two events, taking the caber toss trophy with a throw of 32-feet-five-inches, and winning the beer keg toss with an effort of 28-feet-four-inches.
Laurie Katzer, Montesano, won first place in the under 18 category in the women's wading event, rolling pin toss, and greased pole climb. Joan Russel, Ocean Shores took took first-place in the pole climb in over-18 and fourth in the rolling pin toss.
Evelyn Katzer, Montesano, Laurie's mother in rolling-pin throwing in the over-18 category. In ladies' rolling pin throwing, no negative scoring was charged for lack of accuracy but spectators had to be nimble.
General Chairman of the FFF for Jaycees was Gary "Leakyboots" Forner. Pat Katzner, club president, oversaw arrangements.