Occasionally on the quick, 90-minute trip between the beach and Olympia I think about what it must have been like to live out here, long ago. From what I gather, homesteading on the Hidden Byway wasn't easy but for those who did it, I have yet to come across a tale of regret. In one story I found Ray Housler recalling life in Copalis Beach beginning in 1913. But by then getting here wasn't that difficult. What had me curious was finding out what the journey to the beach entailed before roads, and rail. You know — when horsepower was still king.
I also heard rumblings about the waterways as transportation which makes sense when you live in a densely forested area with ample rivers, creeks, bays, and the ocean, but I hadn't taken the time to fully grasp what that meant for Grays Harbor until I dug in for this article. For example in 1883, what's now called Ocean Shores was already a bona fide summer escape for river dwellers who easily reached it via water. Funny (strange) that most of us don't know that. Instead, we think that Ocean Shores as a getaway began in 1960 after it was purchased and developed by Wendell West. But, come to find out, that's not so.
Indigenous people have enjoyed the bounty of natural resources along our coast since the dawn of time and while white explorers visited intermittently after Robert Gray "discovered" the harbor in 1792, it wasn't until 1848 that Irish immigrant William O'Leary became the county's first permanent white settler. From that point on, recognizable names trickled in; Polson, Emerson, Benn, Damon, and Weatherwax to name a few and by the turn of the century, a recorded 15,124 people lived in what was then called Chehalis County — but that doesn't mean getting to the Hidden Coast was easy back then.
Moving to the Hidden Byway circa 1883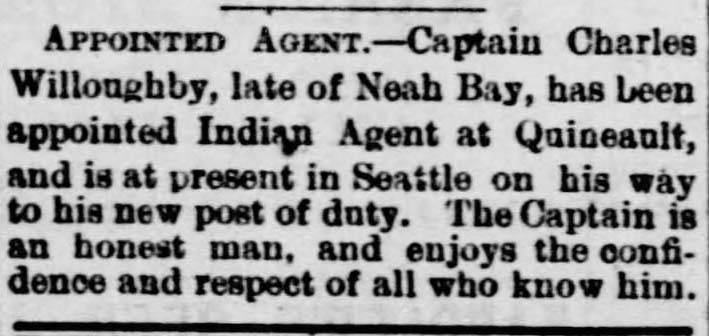 In 1877 boat Captain, Charles Willoughby began working as an Indian Agent at Neah Bay's Makah Reservation until late 1883 when he accepted a transfer in the same capacity to the Quinault Reservation on the Hidden Byway. Sarah Willoughby, his wife, documented their relocation which I'll share below but first, let's take a peek at the main events going on in Aberdeen-Hoquiam back then.
Slow and steady wins the race
By the mid-1880s, building roads to the beach was a slow-go even though growth was happening elsewhere in the county. For example, in 1884 Aberdeen was platted and a stern wheeler called Governor Newell, was put into service transporting people and goods from Montesano to Hoquiam via the Chehalis River (thus no burning need for road).
Also in 1884, the timber industry was poised to, but hadn't quite yet, boomed. A.J. West was busy building the first sawmill, three more mills quickly followed, and Albert O. Damon began boat service across the harbor between Hoquiam and Damon's Trading Post at what's now Ocean Shores. From there mail and other necessities were distributed up the beach — primarily by horse and cart.  
It wasn't until 1910, almost thirty years after the Willoughby family moved to the Quinault Reservation, that the county agreed to finish a road to the beach.
Today, as we zip out here from the I-5, it's difficult to imagine what it must have been like to travel this route before cars, rail, or sketchy gravel roads.
Turns out it was epic!
The Willoughbys move to Taholah - November in Western Washington
On a chilly November morning, as Charles and family set out to relocate, wife Sarah was poised with pen to document their journey. But before we get to that, it's worth mentioning the move took place in November — meaning short days, average highs of 52, and expected rainfall of 14 inches. Along for the ride were parents Charles and Sarah, daughter Adeline (12), sons John (10), Joseph (7), and Fredrick (5), two pet rats, and a Blue Skye Terrier mama with a half-grown pup. While the first leg was a leisurely boat ride down Puget Sound to Olympia, the remaining 88-ish miles to Taholah lasted five travel-days, across several weeks!
Leaving Olympia via open stagecoach on a dark and chilly morning, the family made slow work of traversing what Sarah described as a very rough and muddy road covered in snags and twisted roots, bordered by lofty evergreens stretching sixty miles between Olympia and Montesano. "Oh, the road!" she says, "Who would have thought that any vehicle could so squirm, bump, writhe, rock, and bound as the wagon bucked from one mud hole into another for many miles. Snags and twisted roots in the dark, rain-fed depths, caused everybody to hold on for dear life; and yet the progress was very slow." 
By mid-afternoon they had 37 miles behind them and stopped for a brief rest at a homestead before continuing along, bouncing and thumping over sunken roots until early night fall. There they stayed at a very small, unpainted, weather-beaten cottage with signage indicating board and lodging. A bit overcrowded but lacking an alternative, they took shelter with the woman of the house, her seven small children, and six male guests who were all gathered around the open fireplace when they arrived.
Travel Day 2 — onward to Montesano
By the first light of dawn, on an unusually chilly November morning with a passing of snow flurries they rose and quickly departed for Elma. This next leg included two harrowing experiences while passing wagons traveling in the opposite direction. As Sarah recalled, "occasionally a team was met whose occupants either looked deeply anxious or were broadly smiling, as if traveling under such circumstances were an immense joke. A gentleman in a buggy smiled serenely as he passed with one wheel of his carriage suspended in midair. Only five "upsets" on this road were recorded in the county paper for the following day!"
Continuing west entailed crossing a small stream choked with dead and dying dog salmon (aka Chum Salmon) and being ferried across the Satsop River before finally arriving at the "large and pleasant village" of Montesano. For two dreary, rainy days they awaited transport down river to Hoquiam at a temperance hotel (meaning no alcohol allowed) that occupied a barn-like structure and was primarily patronized by "mill men and carpenters."
Travel Day 3 — Montesano to Ocean Shores
On day three of travel, they boarded the sternwheel-driven steamboat, Governor Newell recently put to service as a mail boat between Aberdeen, Montesano, and Westport. Under command of Captain James Whitcomb, the family made it safely from Montesano to Hoquiam where they were met by, "a very cheerful looking town with rows of freshly painted houses stretching along the riverbank."
Upon arrival in Hoquiam, they boarded what Sarah referred to as "a very little steamer with broken windows," and crossed Grays Harbor to what's now Ocean Shores. Sarah recalls her children remaining "in a merry mood until hitting choppy waters that blanched their faces and silenced their voices," as they approached Damon's Point Trading Post, on the Oyehut Channel.
For anyone who's been to Ocean Shores in November, Sarah's description of "blanched faces" is not difficult to imagine!
Sarah described Damon's Point as "a long, sandy point abounding in clams and a favorite resort for summer picnics by those from river towns." The family spent several days there learning about the abundance of natural resources available at the beach while waiting for the "Agency team" to arrive and take them on the 30-mile final leg north, to the Quinault Reservation.
Travel Day 4 — up the beach to Moclips
Far from the lap of luxury the Agency team wagon, headed by two horses and a mule, lacked cushion or springs. A cloudy, calm November day on the coast, Sarah remembered the air as "quite mild with a tranquil sea forming long, smooth swells and surf that rolled drowsily, upon the sands." She then explains, "Late in the afternoon, we reached the Moclips River where an otter derrick stood near the mouth of the stream."
At Moclips, about nine miles from their final destination at the Quinault Reservation, the group stayed overnight in a small but well-equipped two-room house owned by a pair of hospitable otter hunters. The hosts served a warm meal with homemade bread and told hunting stories that ensured the kids wouldn't venture away from the house.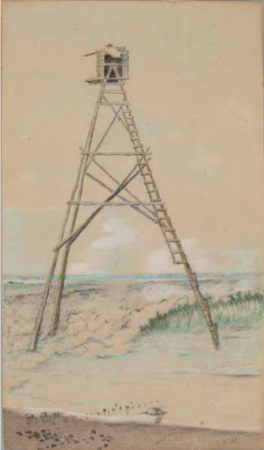 Travel Day 5 — Moclips to Taholah
Misty and cloudy the next morning, they powered on first reaching Pt. Grenville and the unwelcome climb up and over that was plenty beautiful but tiring for the road weary travelers. As drizzling rain fell, Point Elisabeth was seen in the distance and "a great barrier of pebbles and immense weather-worn and whitened logs and stumps lay on their right hand." As Sarah explains, "the wagon made an abrupt turn into a road cut through the driftwood, reached the top of the long mound, and descended through a fantastic assemblage of storm worn stumps and fallen tree trunks, into the low-lying Indian village of Quinault (now Taholah) at the mouth of the Quinault river!"
The family resided at the Quinault Reservation for five years until 1888 when Charles passed away. Sarah then moved with her children back to Pt. Townsend where she had been a teacher before her marriage to Charles.
In researching, it's apparent Sarah made a significant contribution to preserving Hidden Byway history through drawings and manuscripts detailing the daily lives, and stories of those living on the Quinault Reservation during her time there (1883-1888). And much of her work resides at the Smithsonian and some in the UW library archives (including the entire 14 page, handwritten manuscript of their journey to Quinault). The attention to detail Sarah applied is truly remarkable.
Fair warning — more blogs will be coming that include Sarah's adventures at Quinault and her contributions to the Hidden Coast Scenic Byway and Washington State. If you'd like to be notified when the next blog is published, please sign up for our newsletter. (Keep scrolling, sign-up form is in the footer.) Thank you!