Having spent a lot of time on the North Beach over the course of our lives, it was rather shocking to see a hidden coast scenic byway sign on State Route 109 while house hunting out here in 2018. Not that SR 109 doesn't deserve the lofty title but — what the heck, how did we miss the addition of a new scenic byway in our home state?! And the more we thought about it, the more something wasn't quite adding up — for example, it's a scenic byway but void of things you'd expect to see like viewpoints, info kiosks, and picnic areas? Not to mention where was the tourist-facing hype? We looked online; no hype. Hmmm, no front page in a local newspaper either. Obviously — more investigative work was in order.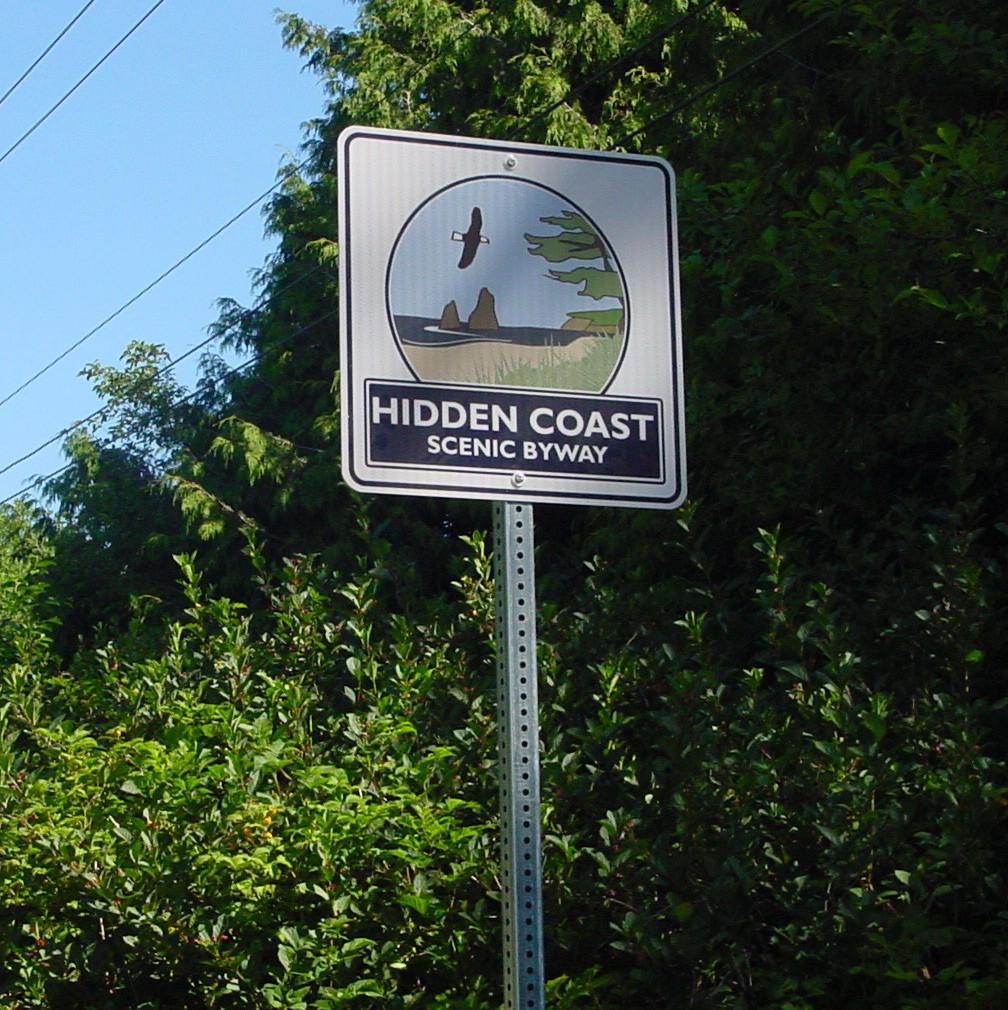 Not gonna lie, the byway story is a bit complicated
The hidden coast scenic byway is a relatively new nickname for SR 109, which has been part of Washington State Scenic and Recreational Highway System since in 1967. From the get go, this and other chosen state highways were written into law, each with a short route description. SR 109 legally begins at the junction of US 101 at Hoquiam, west and north through the Quinault Nation, terminating on US 101 in the vicinity of Queets. Yep, Queets. And yep, it's an impossible journey for the average tourist (see map). Which begs the question — why is it written into law that way?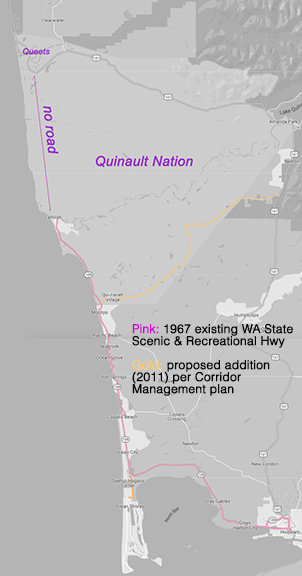 Taholah is the end of the road, not Queets?!
Washington 109: The road to nowhere still isn't going anywhere at all, a 1985 Tacoma News Tribune article explains that more than 15 years had passed since the SR 109 extension through the Quinault Nation to Queets was approved and written into law. And over five million federal and state dollars had long been spent in that effort — including extending the road and building a bridge across the Quinault River, in Taholah. While I'm sure the actual reason the project stalled is immensely complex, the article points to disagreements amongst those involved. Now, 50+ years later and nothing's changed. SR 109 goes through Taholah, across the Quinault River bridge and that's it. And its not considered a passable or paved road regardless of what the law says about terminating at Queets. Hmmm. Personally, I like the thought that there's probably pristine old growth forest still growing nearby and don't mind driving around it. Just sayin'.
National Scenic Byway Program
In 1991, decades after the Washington State Scenic and Recreational Highway Program began, Congress enacted a national byway program to federally recognize culturally important roads around the country. The program required applicants to be overseen by a local entity as well as hold a state or tribal byway designation before applying to become a national byway. However, it still allowed its grants to be allocated to state, tribal, and national byway projects even if they weren't nationally recognized. Then in 2012, after 20+ years of supporting our byways, federal funding lapsed, leaving the Hidden Coast Scenic Byway as it was — a state scenic and recreational highway.
Induction into the national byway program — show me the money
National byway participation was a voluntary, community-based endeavor overseen by a local organization including the production of a corridor management plan prior to applying for national byway status or grants from that program. In 2008, Grays Harbor Council of Governments secured a $142,000 award from the federal program to create the "Grays Harbor SR 109 Corridor Management Plan." Ultimately renamed "Hidden Coast Scenic Byway Corridor Management Plan." It should be noted that all federal program grantees competed in the application process and awards never covered more than 80% of any project's total cost. The remaining 20% (or more) had to be raised through community support. So, when you hear that the Hidden Coast Scenic Byway is a "community supported endeavor," or "relies on community funding" that's why. At this point, the Hidden Coast Scenic Byway only kinda-sorta exists; nobody is overseeing it or collecting money to support it.
National scenic byway program collapse and resurrection
Grays Harbor Council of Governments and stakeholders spent three years creating a detailed corridor plan, complete with a now long-defunct website. By the time they finished the 84-page document, federal funding for the national byway lapsed. Then, miraculously in 2019 after 12 years in hibernation, Congress passed the Reviving America's Scenic Byways Act of 2019. And with it came $16 million federal dollars to support projects, and in 2021, 49 new national byways from 28 states were inducted into the program. With the recently added Cascade Loop Byway, Washington is now home to eight nationally recognized scenic byways. Having met with leaders at Grays Harbor Council of Governments in 2019 on this topic, I can safely say that SR 109 never applied for national recognition, even when the program was refunded in 2019.
To solve the mystery of whether or not the hidden coast scenic byway is a "thing," the quick answer is: we remain a Washington State Scenic and Recreational Highway called State Route 109 — just as we have been since 1967. And we are not officially known as the 'hidden coast scenic byway." It's an adopted nickname.
What's up with the signage?
In 2016, four years after the hidden byway corridor management plan was complete — and the federal byway program was defunded — a group called Grays Harbor Vision 2020 put on an event. This gathering hosted at Seabrook celebrated the placement of 10 Hidden Coast Scenic Byway signs, funded by Seabrook, Timberland Bank and other contributors that are still visible along the route.
How Ocean Shores and the Moclips Highway got looped in
As far as I can tell, SR 109 was not called the Hidden Coast Scenic Byway prior to 2008 when development of its Corridor Management Plan commenced. And I have not discovered (with any degree of certainty) how the name came to be. I was told it came about in a planning meeting where someone mentioned a longstanding area nickname: the hidden coast. I admit, I've never heard that term associated with this coast before, but it makes sense. The addition of Moclips Highway is an obvious deviation from the state recognized highway because terminating "in the vicinity of Queets" is impossible — but what about the addition of Ocean Shores?
The Corridor Management Plan included Ocean Shores
The plan explains that SR 115 provides access to Ocean Shores, the Quinault Beach Resort and Casino, Ocean City State Park, and Oyehut, even though its not actually a state recognized recreational or scenic highway. The corridor plan never came to fruition but it treats SR 115 communities and resources as full participants in the hidden byway. In context of what Ocean Shores offers, and the short route (44-mi total) it makes sense to add it but I'm not sure the feds would agree that rule-breaking works well in a competitive application process. And since national byway status was never applied for, it remains a mystery.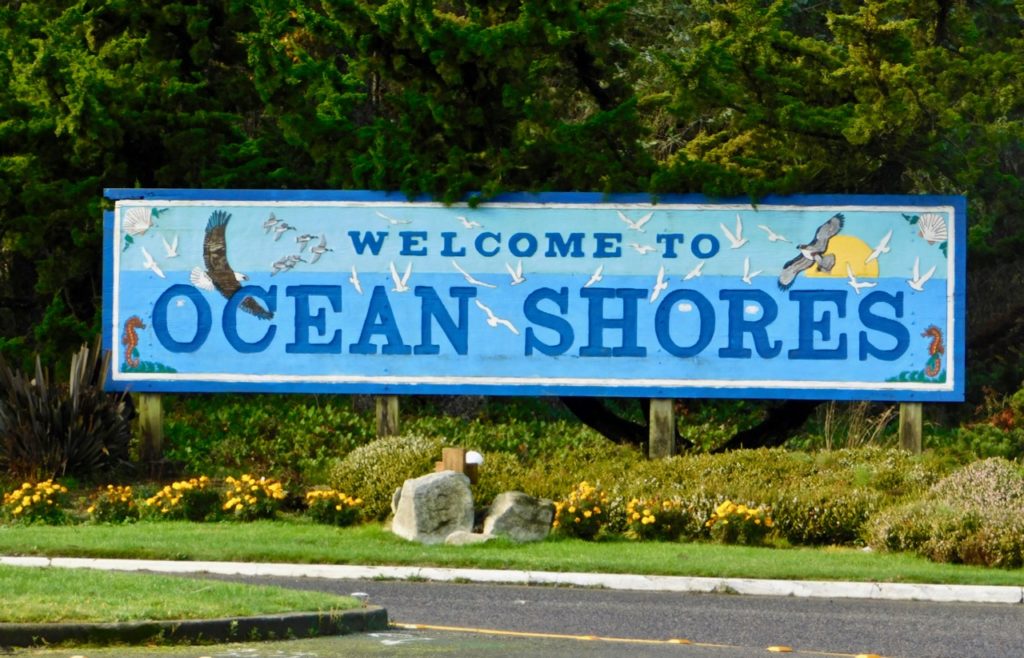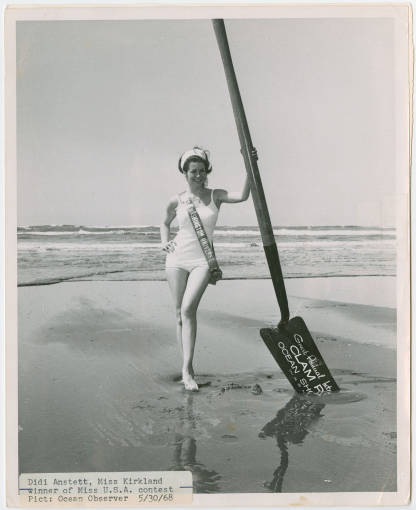 The hidden coast scenic byway: a snapshot of what isn't
The 84-page Corridor Plan is far too detailed to outline in one paragraph but if even a small fraction of the ideas had come to fruition, we'd have the "quintessential Washington Coast drive that offers a beach experience like no other," as promised. For example, the plan eliminated a need for cars. That's right, the plan calls for every community between Hoquiam and Taholah (including Ocean Shores) will be accessible by bike routes.
I'd like to see that!
It also includes rails-to-trails and bike lanes, new interpretation centers and enhancements to existing museums as well as ecotourism, acquiring portion of the Copalis Ghost Forest, and delivering guided access to Weatherwax, Point Grenville, and the Quinault Experimental Forest (to name a few). Plus, conservation efforts, improved beach access, retirement of billboards along the route, better signage, and visitor information kiosks.
An eyeopener to the labor of love a byway can be, the plan delivers a narrative peek of what a day on the byway could be like, describing things like restaurants and other locations that don't yet exist and dives into some of the local history. It outlines which intrinsic qualities it possesses (in prep for national recognition) and for those, like me, skeptical about the bike path, it even addresses safety! The wrap up is a high-level outline of major projects — rails to trails, viewpoints, new interpretive centers, restrooms and parking, overlooks, a new museum, plus more. All of which (the plan admits) will require significant capital funding, volunteers, operational support, marketing, and oversight.
Whoo-wee that's a lot!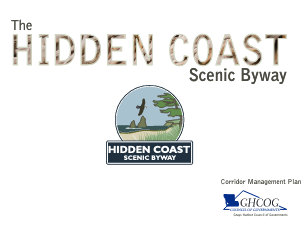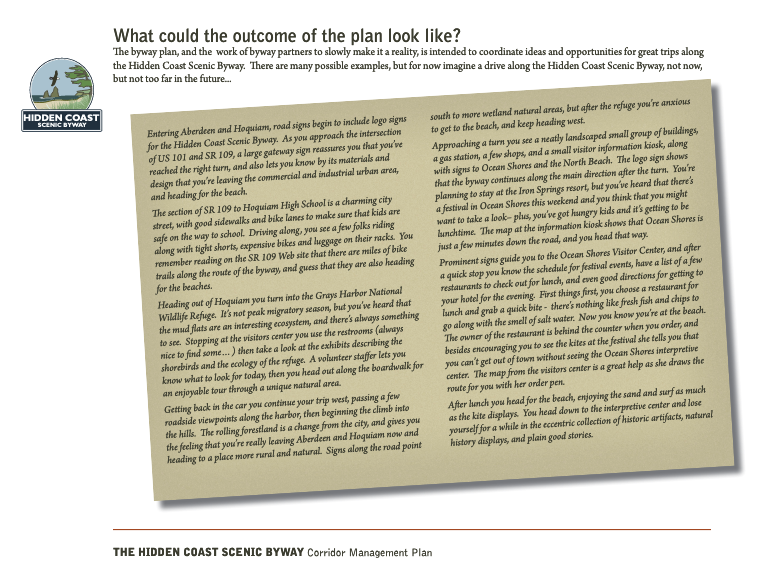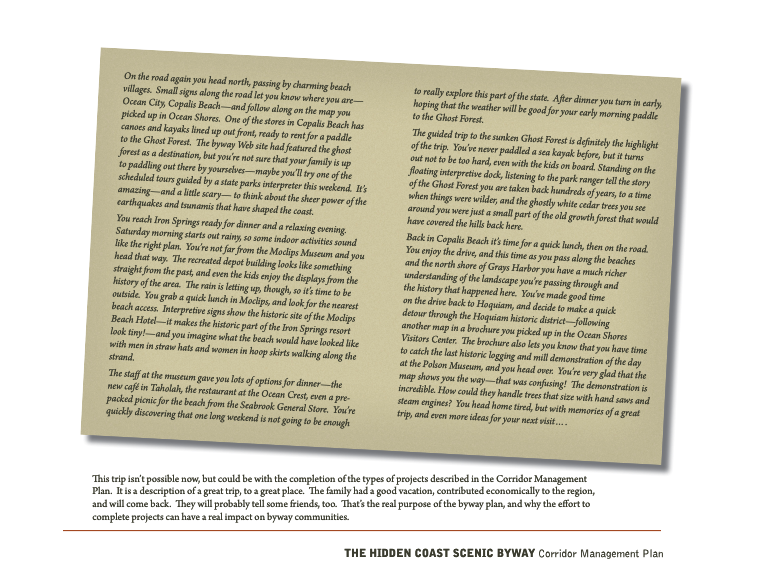 Is the hidden coast scenic byway "a thing" or a gimmick?
I'm not sure I can answer that. (lol) It's not legally or otherwise anything but a dream that never saw the light of day. But it's a clever concept, and our coast deserves a clever name that embraces its amazing diverse experiences, histories, activities and peeps plus and its coveted analog-life-simplicity we enjoy out here.