Hi, I'm Sue. A PNW lifer, who grew up in a blue collar family raised by Boeing parents and grandparents. My dad, a decorated airline mechanic lead the team that worked on the 747, AWAX, and other special projects. Mom printed, folded, and distributed blueprints and Grandpa John was also a mechanic at Boeing. (Grandma, Alice worked at K-Mart 😉
When not working, we were jeeping, hunting, fishing, hiking, dirt biking, trail-blazing, boating, camping, driving to the middle of nowhere (up logging roads), playing sports, and enjoying the PNW playground.
Trailblazer from a young age

Yes, that's the original REI sign from the Seattle store and my sidekick, Wrigley
My first "job" was trail-building at Wynoochee Lake with the Youth Conservation Corps during my 15th summer. And by 19, I spent summers putting out fires in the Olympics and put myself through school working in REI's warehouse during the off-season.
I've always collected and preserved stuff – cool stuff but I'm not a fan of clutter so I don't typically hang on to it, just for the sake of having it – some of it yes, but most of it… no, or only for awhile. That said, there's been a time or two when I couldn't resit putting this-or-that in my yard — like the bowling balls from Rainier Lane, Aberdeen's bowling alley:
Really, I'm most excited about finding, saving, salvaging, and putting "cool things" in the hands of others who will love it as much as I do. I'm also addicted to swag lamps, petroliana, breweriana, and other "guy" stuff.
NFS

NFS

NFS

In the shop $1000

In the Shop $120 – Sold!

$45.00 – Sold!
But most of all, I'm addicted to the stories and the people I meet along the way…
You know, the old guy who's been working on cars his whole life, or the people who've lived in the same place for generations. The conversations are priceless and pulling an old sign out of an attic to let it see the light of day is exciting!
Every piece I buy has some sort of story to it – either my story about childhood or other memories or the stories told to me by the person I'm buying it from – or – both.
Before opening Sooz Rusty Nail, in Pacific Beach (2020), WA I had a shop in Ocean Shores (2019). Before that, I ran this business out of my Tacoma, WA garage which was easy to do since people were more willing to drive there vs. driving to the coast. I get it.
I believe there's a place here for a store like this where everyone can find something interesting whether you buy it or not. And my hope is you will come to Pacific Beach, visit my shop, spend time at the beach, enjoy the nostalgic culture, and leave feeling great about the experience.
I look forward to meeting you, swapping stories, and becoming friends! In the meantime, follow me on social media to watch firsthand how the shop is coming along. See you at the beach!
---
SoozRustyNail 55 Main Street, Pacific Beach, WA!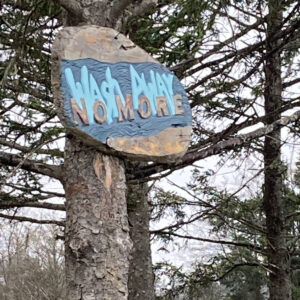 In 2018, before settling on the North Beach we put...
Read More