Welcome to 55 Main Street!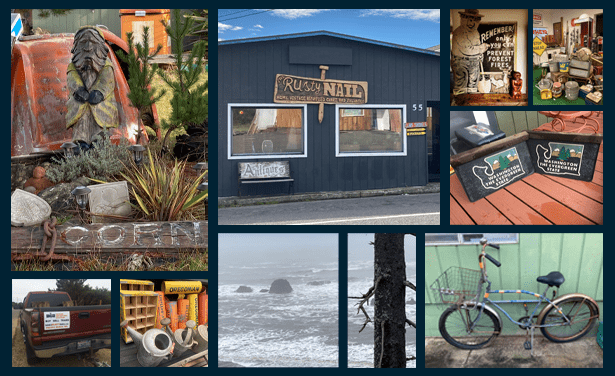 We've been wheelin' and dealin' in junk for decades mostly as a side hustle from our previous home in Tacoma. But then the kids grew up and flew the coop and we followed suit with a move to the ocean's edge in 2018. Turns out it was easy to get our junk to people when it was conveniently located on the I-5 but convincing someone to drive to the beach for a this or a that — not so easy.
So, we did what made the most sense and opened a shop. Armed with a plan from the very beginning we bring in good junk, price it to sell, and create fun experiences for visitors. And everything we do around the shop serves those goals – cuz if you drove all the way out here, we think it should be worth the trip! And while you're here, wouldn't it be cool if you could learn a thing or two about the history, be introduced to people who pioneered all kinds of stuff, and find all the secrets along the Hidden Coast Scenic Byway?
I mean that's what makes adventures memorable, right?!
Meet the Sooz Rusty Nail Team
Sooz Rusty Nail is the brainchild of lifelong collector, history buff, get-outside-girl, and Pacific Northwest native, Sue Darcy. The things you see for sale in our shop are reflective of her blue-collar up bringing; doing chores on their hobby farm in Covington while mom and dad worked at Boeing. Sue also spent the majority of her early life outdoors hunting, fishing, jeeping, and boating as well as working alongside her dad on the land, house, cars, and boats, and playing softball like a champ in her spare time — from a very young age!
Who knows exactly when the collecting bug bit her but no doubt childhood camping trips with the grandparents, up and down the west coast from the California Redwoods to Agate Beach helped fuel it. Riding in the backseat of Grandpa's baby blue Ford Country Sedan pulling a vintage trailer, Sue would navigate and help set up camp as they covered thousands of miles, collecting memories and souvenirs along the way.
With an eye on a career in forestry, at 15 Sue began working summers with the Youth Conservation Corp building trails in Grays Harbor County at Lake Wynoochee and exploring camp Satsop and Grisdale with her crew. Believe it or not, she still has a pair of Grisdale logger suspenders to prove it! By 19, she graduated from trailblazing to firefighting in the Olympics over the summers while attending college on a softball scholarship and working at REI during the school year.
Then came the jobs that greased the skids to opening Sooz Rusty Nail – delivering tourist brochures on the Washington State Ferries; bobbing on the Sound, driving between ports which was followed by a decade of delivering picture framing supplies for Seattle based Larson Juhl.  A weekly route from Bellingham to Eugene and out to the coast where, you know… she might find some good junk, throw it in the back of the box truck and haul it home for repurposing later. An appetite for local travel and learning history along the way is a big part of the shop today. In any given year, Sue logs thousands of miles looking for all the great stuff you see here!
McNall Mason — Storyteller
For McNall, growing up hippie in a creative family with an artist mom and Art Therapist dad instilled a passion for bringing a bit of creativity into every aspect of life. Pen in hand, McNall's writing journey began in preschool with folded papers stapled and fashioned into "newspapers," complete with comics, sports, and classified ads, delivered regularly to her parents.
At age nine, McNall's first published work hit the street. It was a child's-eye view of then tiny Tacoma Children's Museum written for Allied Arts of Tacoma, where her mom led a special population arts program.
Following a mainstream path into marketing, in 2002 McNall launched a hands-on-history start-up company that developed products for catalogs, schools, and stores across North America. She sold that company in 2007 and five years later wrote and illustrated three award-winning children's books, and began writing for tech companies where she remains today.
With a great love for and interest in history, in 2018 the move from Puget Sound to the Hidden Coast, spured her to take up writing history, lore, and adventure stories as well as pickin' stories to document and share the area and her adventures with Sue in running an eclectic shop at Pacific Beach.