Judy McVay, Chainsaw Carving Pioneer
This page moved from HiddenCoastScenicByway.org/McVay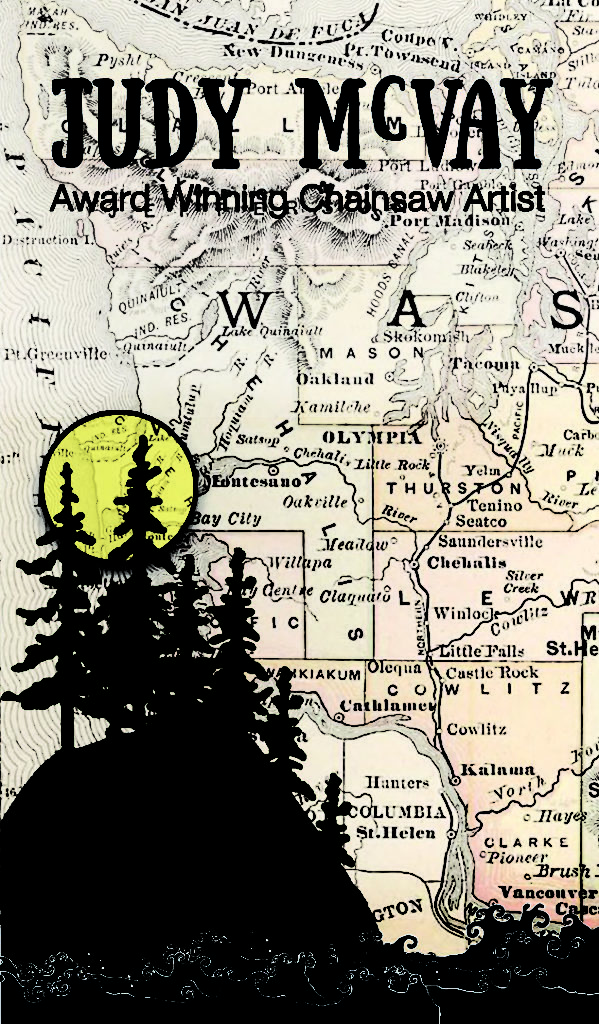 The Judy McVay Legacy
Chances are, if you've visited the Seattle Aquarium, taken an Alaskan cruise, bought a carving from the Washington State Fair, ogled the iconic rain gauge at Lake Quinault Lodge, traveled to Whidbey Island, or driven the Hidden Coast Scenic Byway; you've seen a McVay carving and didn't even know it.
Raised in Spokane with siblings Mike, Pat, and Eileen; Judy and her family evolved chainsaw carving into lifelong careers, thereby cementing a place in history as wood carving pioneers.
The Judy McVay legacy includes her grit an determination as a competitor! Judy was the first woman to win a top placement in a chainsaw carving competition, did so in '81 when the male-dominated sport required wielding heavy, clunky saws!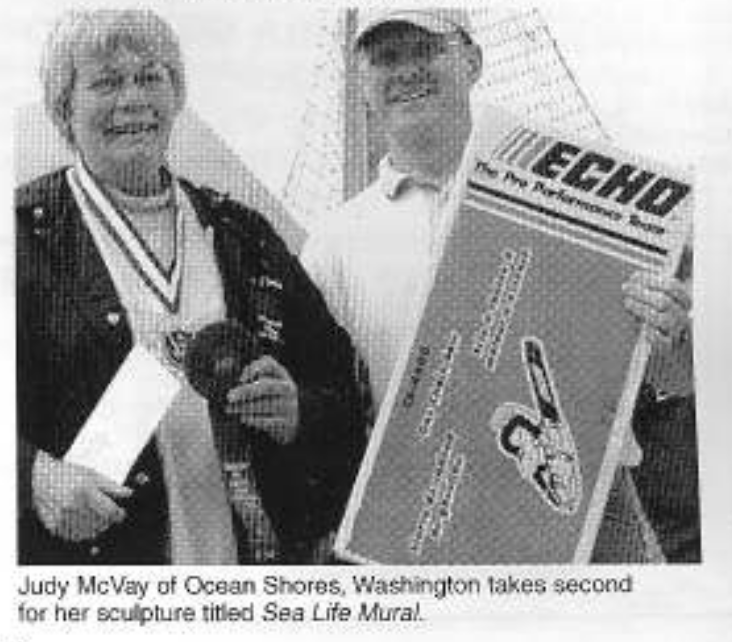 Mike, self-taught and arguably the most known, carved an impressive 50-foot, six-panel mural of Oregon's history for the '64 NY World's Fair. Pat's carvings are prominent features at Seattle area culinary staple, The Crab Pot, and other Pacific Northwest locations.
After graduating from Spokane's North Central High, Judy married traveling logger, Dick Backus. Their first child, Steve, was born in 1959 quickly followed by sister Lynn as the young family moved around the Pacific Northwest chasing logging jobs. Second son Boaz arrived a few years later and by the late 60's Judy was divorced and struggling to raise three young kids alone and with little means.
Adding to the difficulty, they lived in Humptulips, an isolated area of Grays Harbor dominated by logging and mill jobs not suitable for women in the late '60's.
The Family That Carves Together Starves Together

-McVay
Following a long hiatus abroad, Mike returned to the states and landed at Judy's in the early '70's. Pat joined them soon after. Together, the siblings started a carving business with Mike teaching the finer nuances of signage and art made with a chainsaw.
Judy McVay Legacy; Let the Carving Begin!
Judy and Mike carved the Humptulips cemetery sign found on Hwy 101 at McNutt road in '72. Signed on the back, it's shaped like the evergreen trees that now, almost 50 years later, tower over it.
In '75, the family relocated to Whidbey Island and set up shop; Judy and her kids returning often to Grays Harbor for carving jobs and to visit. The following year Mike started a decades long tradition of live-carving at the Puyallup Fair and in '81, with 17 carvers signed up, they held the first chainsaw carving competition there.
The 80's and 90's were big for the history of carving. By '87 the family was helping form the Cascade Chainsaw Sculptors Guild to keep carvers connected and informed. And during that period the McVay-Backus clan created and ran carving events across the region that still exist today. Most notably the largest carving competition of its kind in Westport ('90 – '05) and helped start the Sand and Sawdust Festival in Ocean Shores ('97 – present).
Judy's work is focused on large murals, furniture, and signs that hang in some of the most well-known locations on the west coast; Kalaloch and Lake Quinault Lodges and the Princess Cruise Line to name a few.
Where is Judy Now?
Retired, Judy's kids; Steve, Lynn, and Boaz Backus along with their children carry on the Judy McVay legacy and a family tradition of carving or starving for a living.
Learn more about Judy and the history of chainsaw carving on the McVay-Backus website.
McVay On & Around The Byway
The Judy McVay legacy left her mark on Grays Harbor County and especially on the hidden coast. Although we are still documenting samples of her work along both the Hidden Coast Scenic Byway (WA-109 and WA-115) and our neighboring Pacific Coast Scenic Byway, there are some fine examples that can be found in a short loop.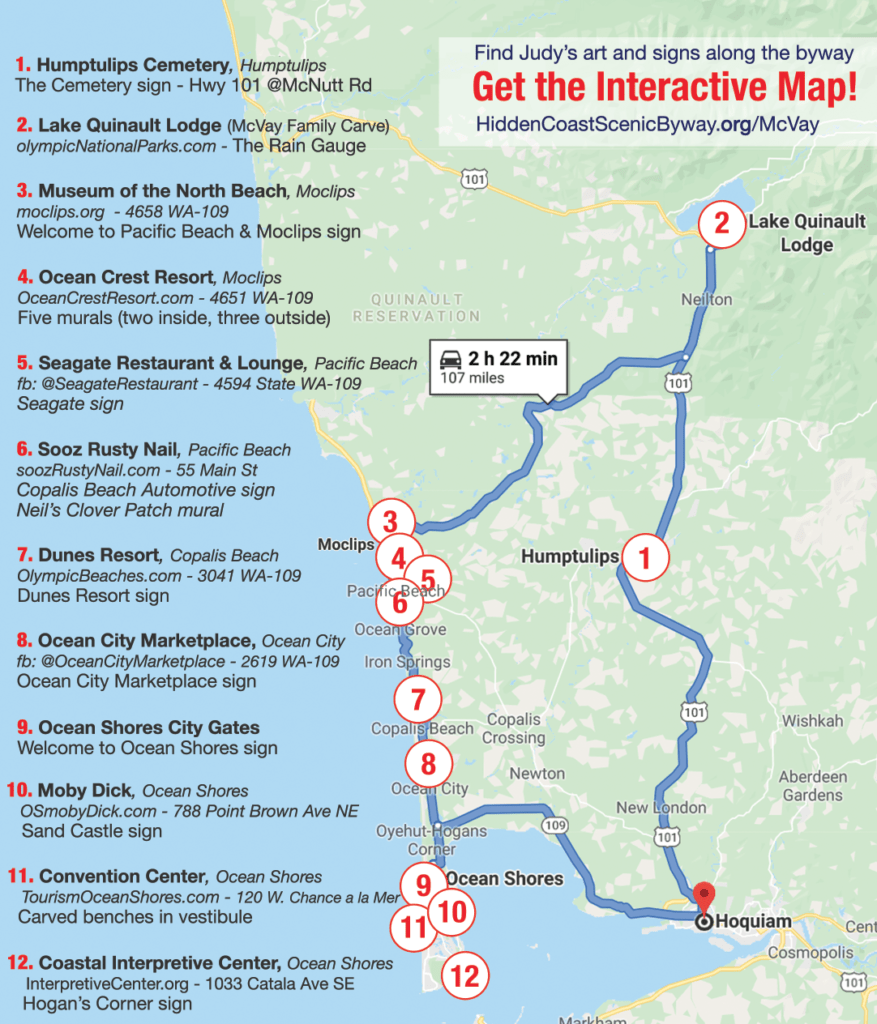 1. Humptulips Cemetery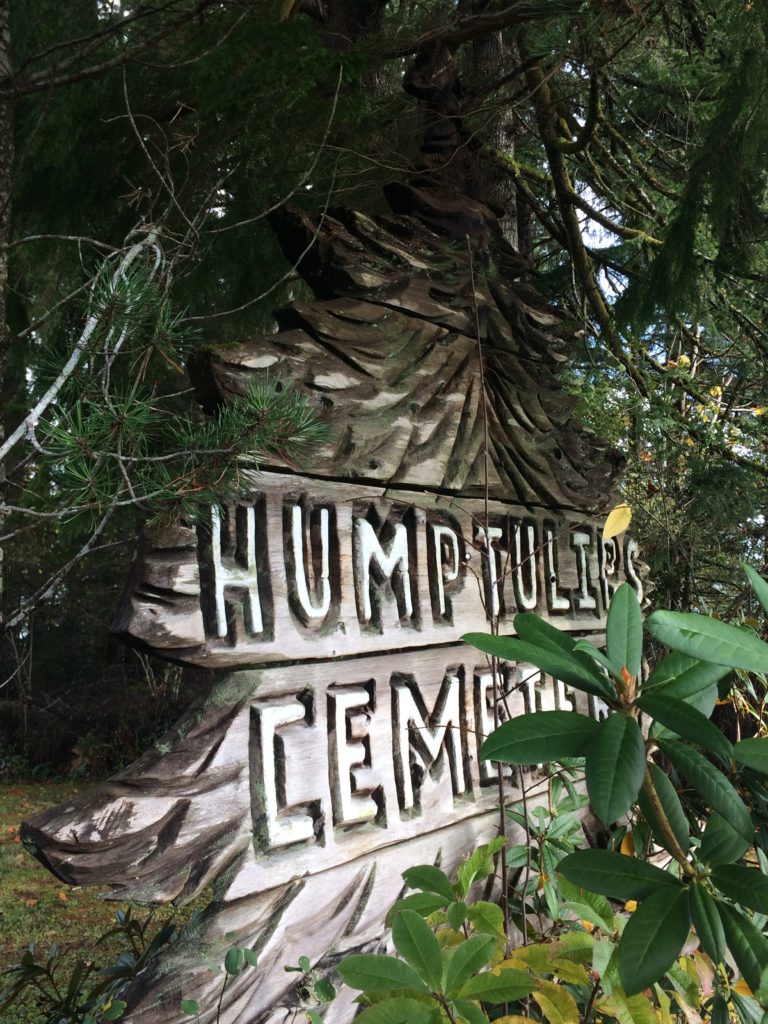 In Humptulips, along US-101 north from Hoquiam, you'll find the cemetery just past the Humptulips Grocery, on the west side at about McNutt Rd. The cemetery itself is a peaceful setting, fenced off with a walk-in access gate. The sign was an early (1972) collaboration between siblings Mike and Judy. As you can see, the back is signed and dated. When placed nearly 50 years ago, surrounding trees were tiny. Now, towering above, they've created a natural roof that has in all likelihood prolonged the life of this wonderful, folk-art style, tree shaped beauty!
2. Lake Quinault Lodge – Rain Gauge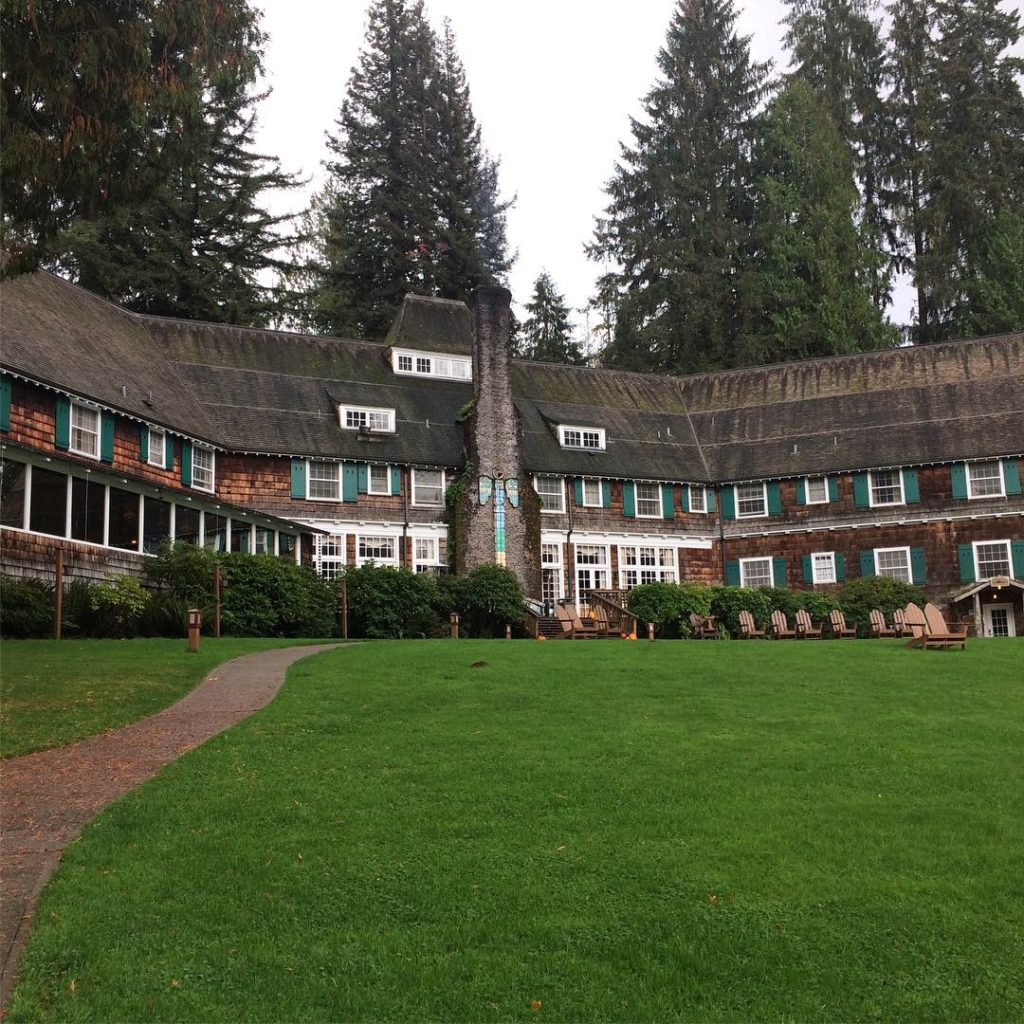 Often mistaken for a Native American carving due to the location, this 23-foot tall totem style carving was commissioned by the Walker family who owned and ran the Lake Quinault Lodge from the mid 1940's to 1988. Based on a reputation as master carvers, the Walkers chose the McVay family to create this impressive, one-of-a-kind gauge that measures rainfall in feet, not inches. It has been standing against the grand chimney, impressing visitors since the 1970's. Based on our grassroots research, this iconic piece is the most photographed McVay carving in the world! Don't believe us? Check for yourself!
3. Museum of the North Beach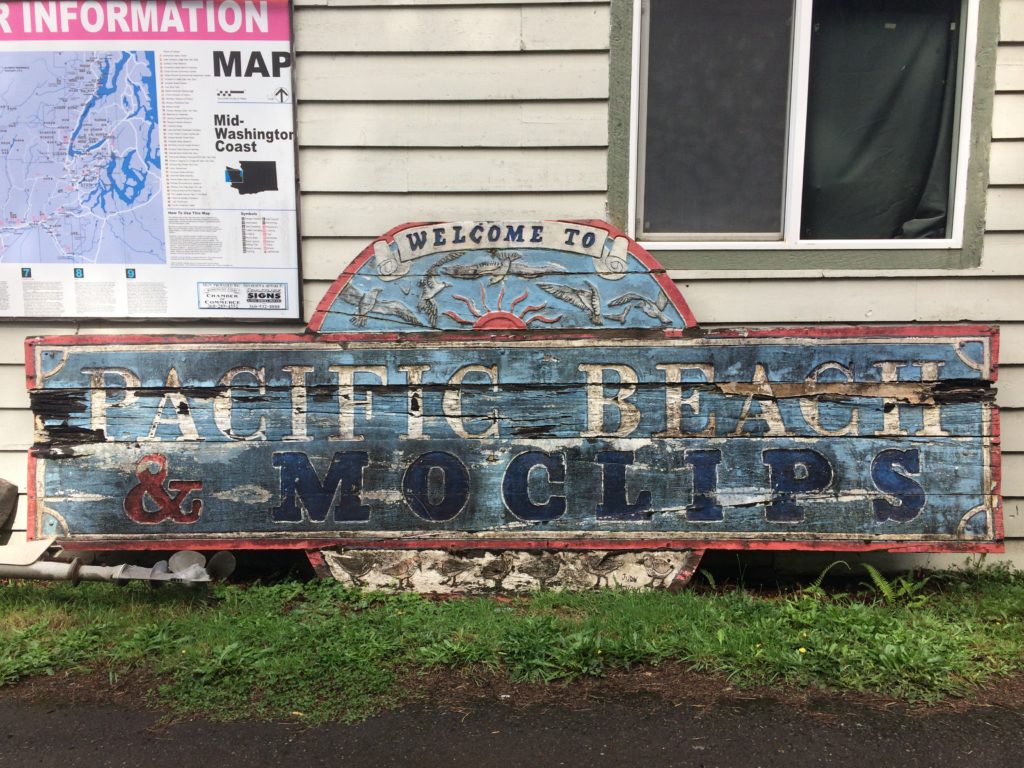 The Pacific Beach & Moclips sign was installed at the four-way stop where WA-109 and Ocean Beach Road meet in Pacific Beach. In a somewhat vulnerable location, it was hit by a car on the bottom portion which caused damage that encouraged rot. Removed in 2006, it was donated to the Museum of the North Beach and can be found at their location 4658 WA-109, Moclips, WA 98562 (see interactive Map!) It might be in somewhat rough shape but Judy's signature can still be seen.
And bonus… at the same time the Welcome to Pacific Beach & Moclips sign was placed, a map/reader board was also carved by Judy and can still be found just west of the four-way stop as you enter the town of Pacific Beach.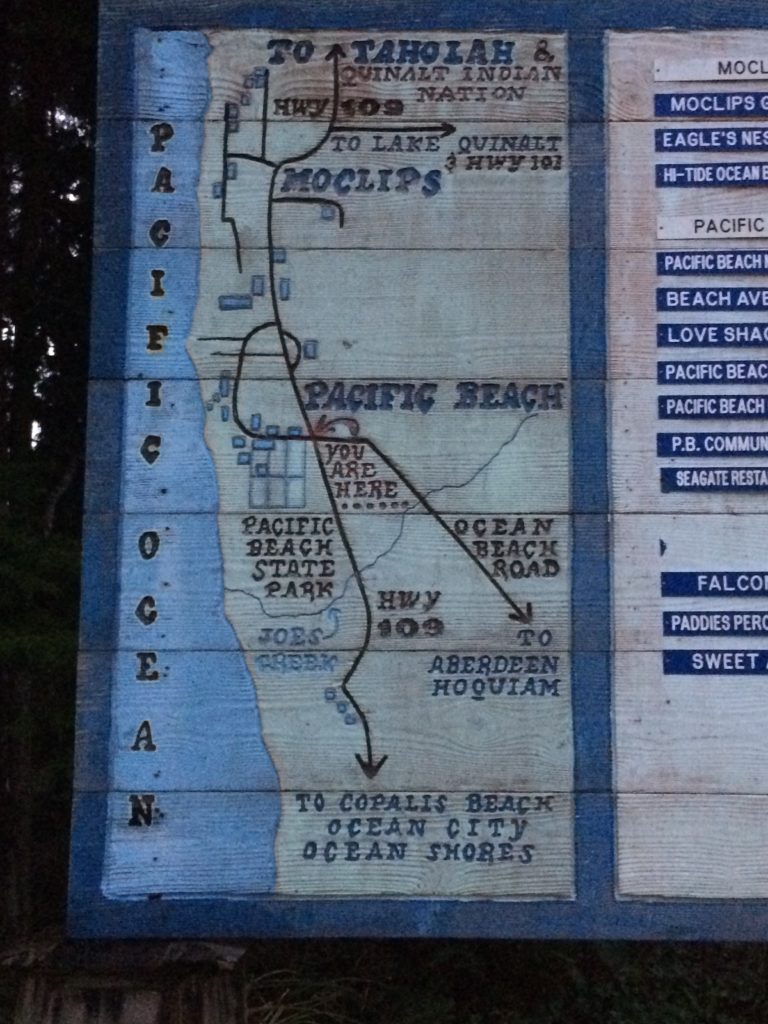 4. Ocean Crest Resort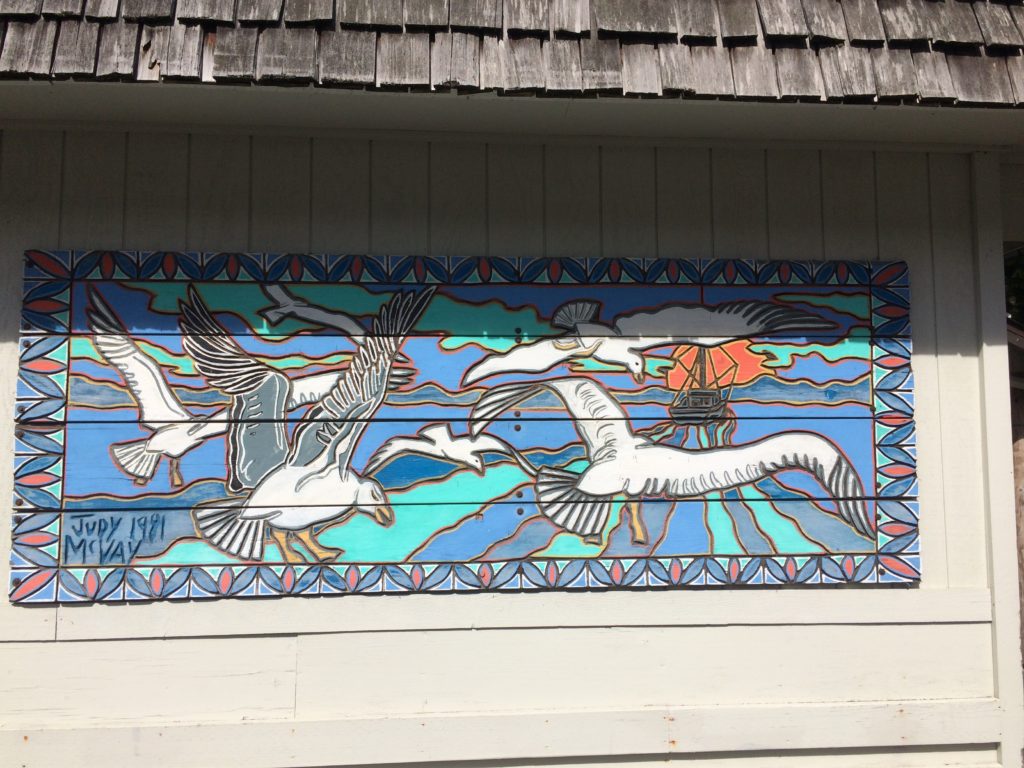 In 1953 the Ocean Crest Resort was but a single family home plus four beach cottages run by Barbara Topete, matriarch of the Ocean Crest family. Now a 45-room resort with gym, pool, formal dining room, gift shop, and awe inspiring view of the Pacific Ocean from a top the ridge at Moclips; second and third generations carry on traditions of hospitality and great food. Avid art collectors especially of local, Pacific Northwest artists, the Ocean Crest has SIX Judy McVay murals on display. Now that's a Judy McVay legacy in the making!
 

Outside at Dining Room Entrance

 

Judy McVay Signature
The large mural hanging outside near the dining room entrance (pictured above) was nearly lost in a devastating fire in 2011. Burned a bit but restorable, it was fixed and returned to it's rightful location before renovation and reopening in 2014.
 

second story balcony
The giant 8 x 20-foot mural in the pool area (below) is a spectacular piece Judy remembers distinctly because it was so large that she had to stand on it to carve the 70 animals depicted. And among those animals, if you look closely, you may see a hidden word left by Judy while carving. Where else but the Hidden Byway would a hidden secret like this exist?!
 

Spa area @pool largest mural she carved 8×20
The Native inspired carving, also in the pool room, is an award wining piece done at Westport in 1996. This event, created and put on by the McVay-Backus clan (1990 – 2005) was the largest carving competition of its kind.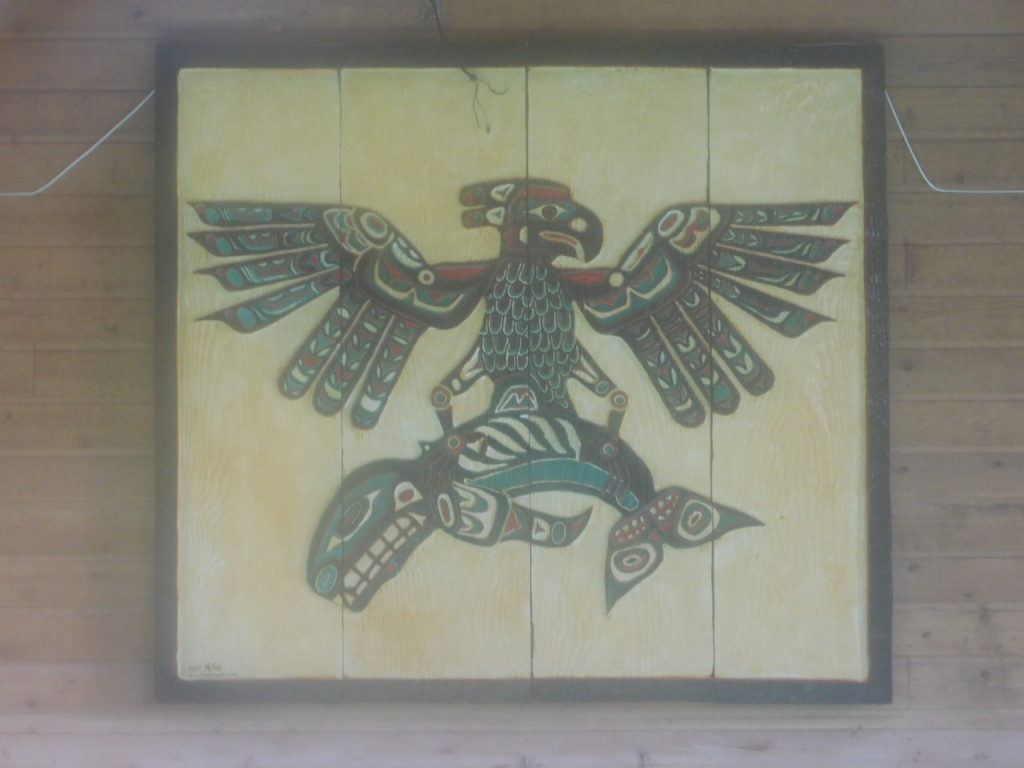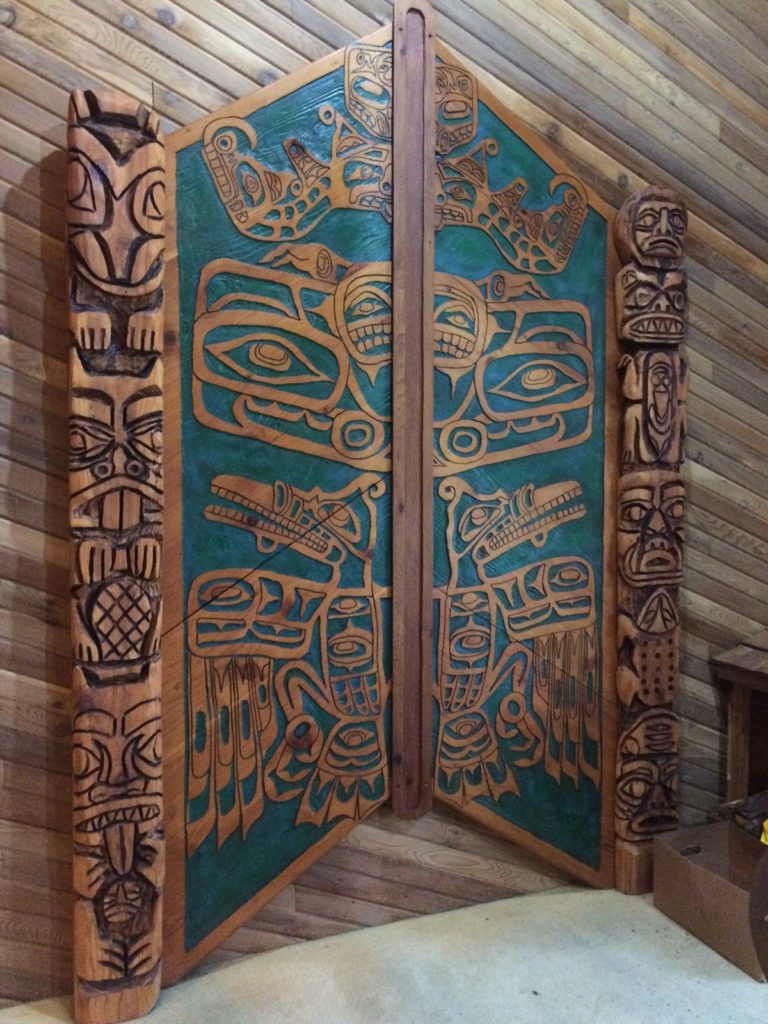 5. Seagate Restaurant and Lounge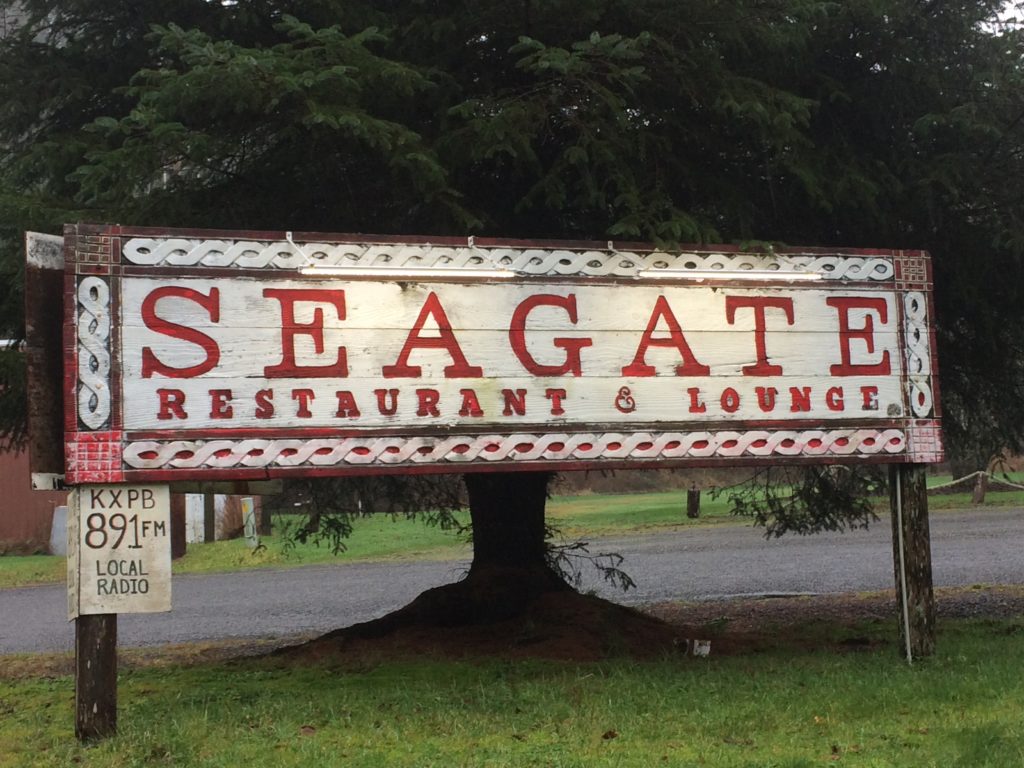 This self proclaimed "unassuming, family-friendly beach shack featuring classic American eats, a full bar & a pool table," can be found just behind the wood carved Judy McVay sign on WA-109 outside the town of Pacific Beach. Originally blue and beige, the sign has been repainted over the years but there's no mistaking the signature basket weave along the edge, the 16′ length and the three long panel construction all of which are dead giveaways that Judy carved it!
6. Sooz Rusty Nail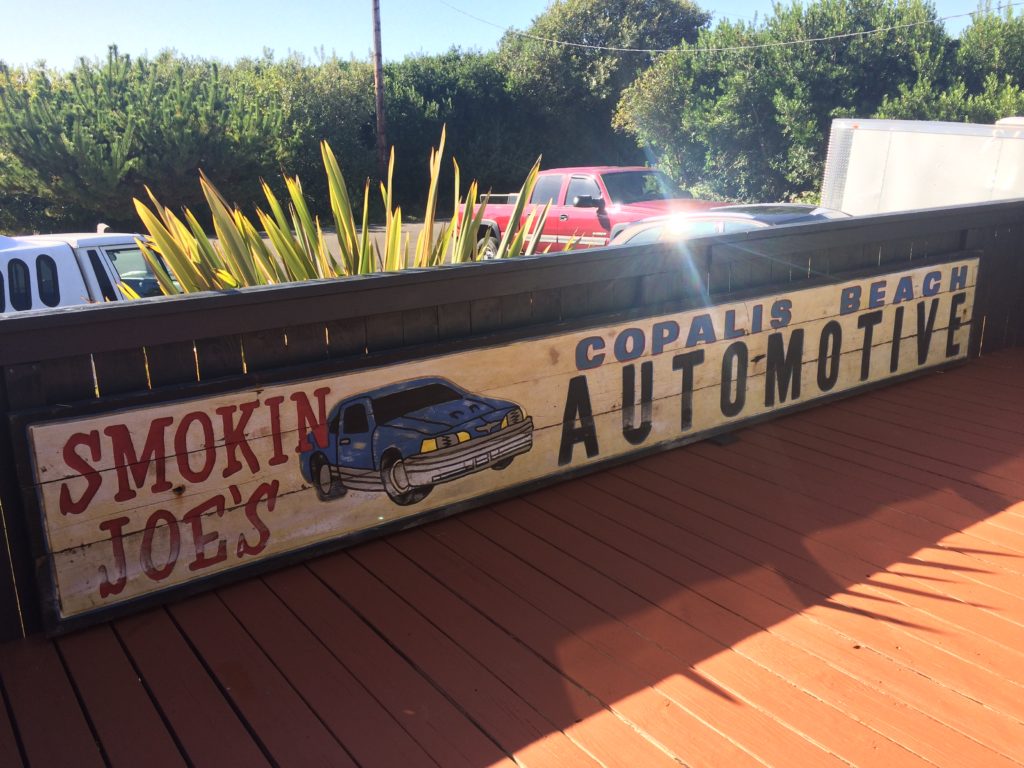 Now open in Pacific Beach at 55 Main Street after relocating from Ocean Shores, Sue Darcy, Chief Picker seeded the idea of a Judy McVay legacy loop tour after pulling this Copalis Beach Automotive Sign out of an attic in July of 2018. Long fascinated with history, Sue's shop features "buried treasures" found in barns, attics, and all manner of places near and far.
Featured in the Winter 2020 edition of Washington Coast Magazine, Sooz Rusty Nail specializes in vintage, repurposed, and salvaged goods or as the magazine called it "Grandpa's Garage" items. In addition to this 16′ Copalis Beach sign, Sooz displays a 18′ sign from Neil's Clover Patch in Langley, WA that Judy carved in the early 80's, available to be seen and enjoyed by the public even though it remains in Sooz private collection with an "I don't want to sell it" price tag 😉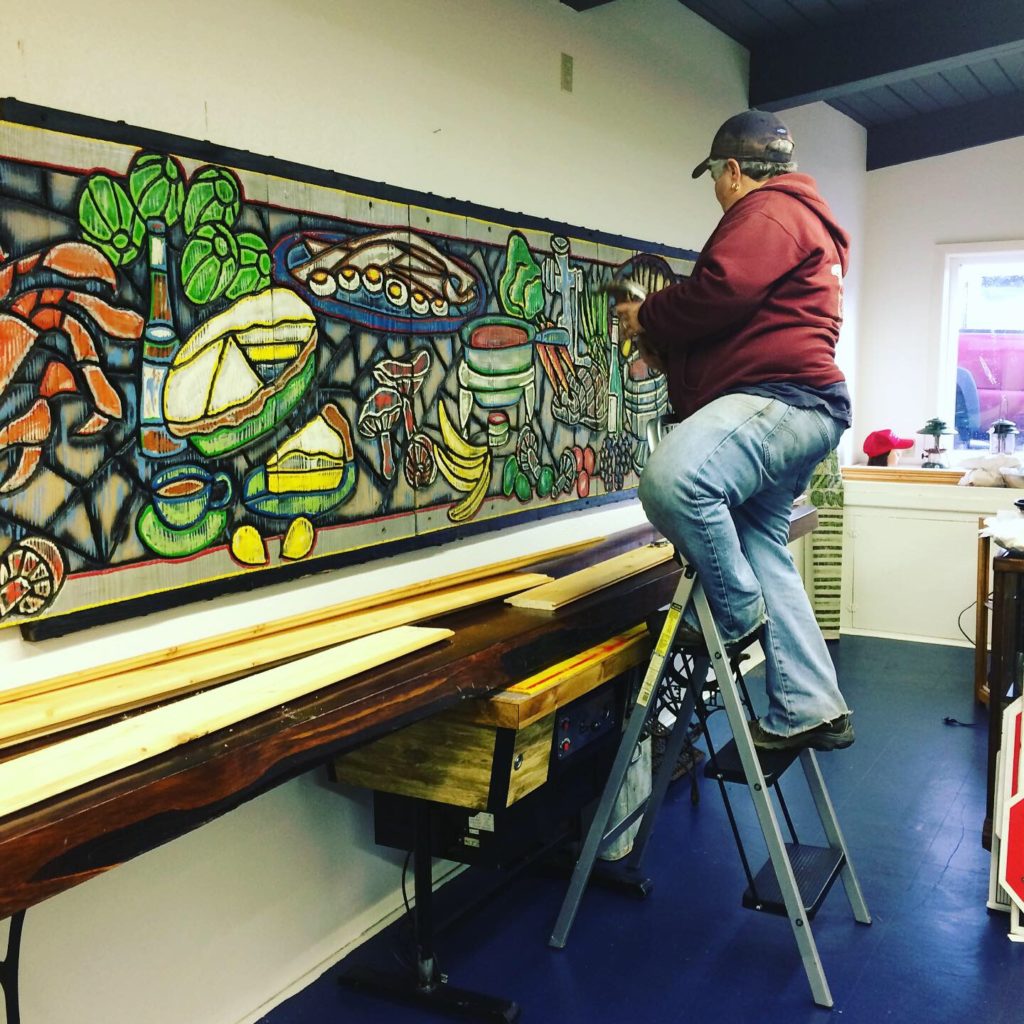 7. Dunes Resort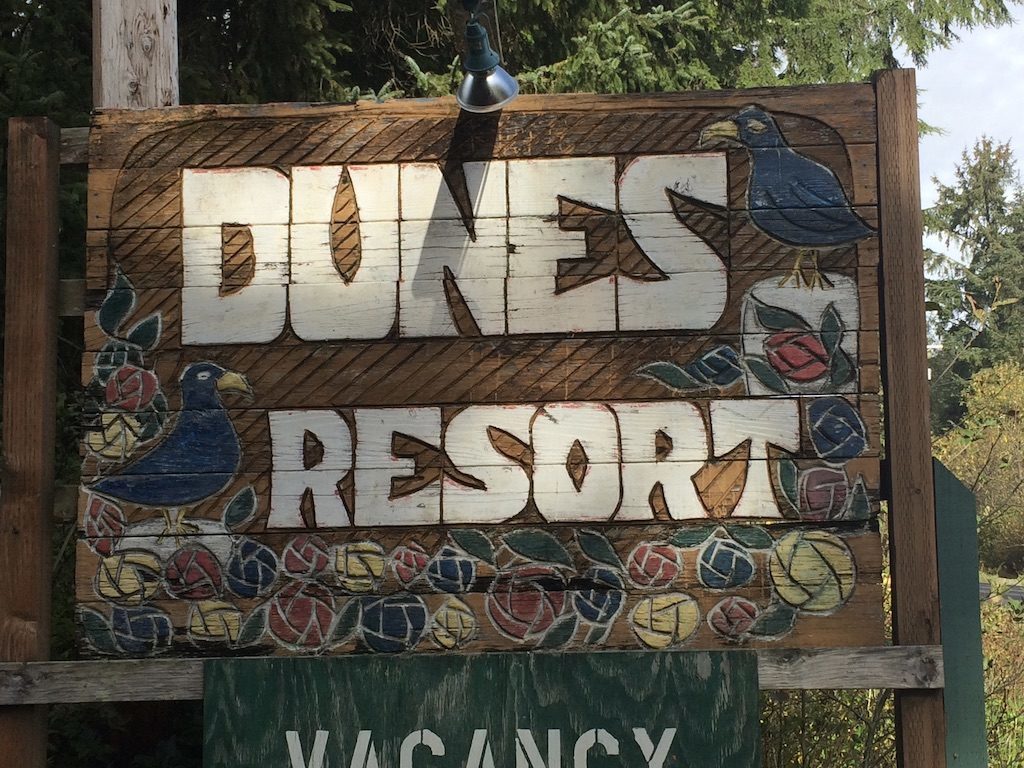 You won't see this beachfront motel, RV, and tent camping resort from WA-109 but you will see this sign. Another early Mike and Judy McVay collaboration, look for it on the west side between Ocean City and Copalis Beach.
8. Ocean City Marketplace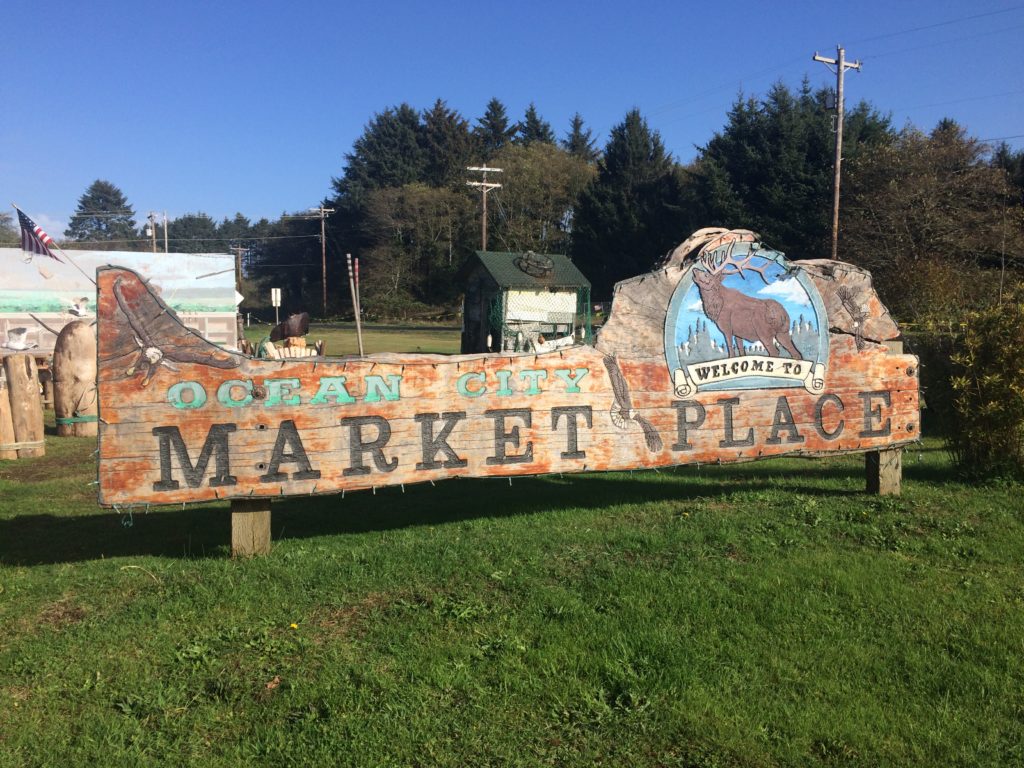 The Ocean City Marketplace was established in the mid 90's by Boaz Backus, Judy McVay's youngest son. Boaz who'd been raised in a a carving family is, no big surprise, a carver himself and also an auctioneer and event promoter. Judy carved this sign out of a huge slab with a big burl that came from the Aloha, WA mill just up WA-109 east of Pacific Beach. As the story goes, Judy had the slab put in the back of her truck, drove it to Boaz's house near the Marketplace, and carved it while it was still in the truck! #GirlPower!
Bonus: Sunrise Market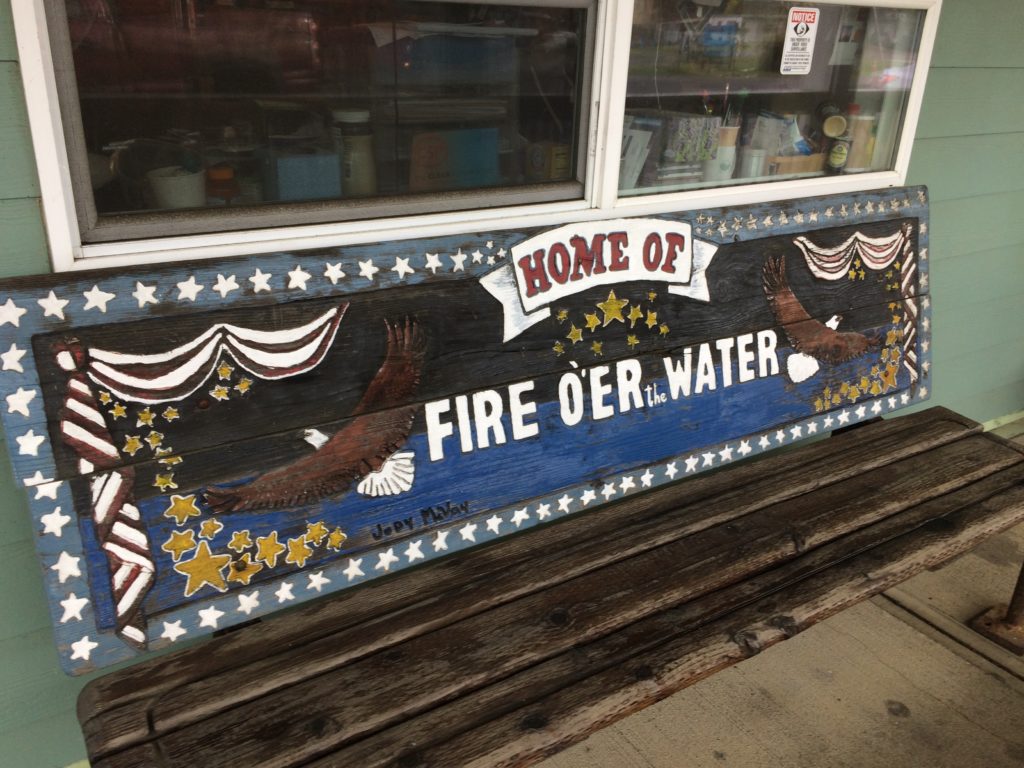 Across from Ocean City Marketplace you'll find the Sunrise Market formerly home to the annual July 4th fireworks festival on the beach. Judy was friends with the (then) owner Carol and carved the store sign which no longer exists and this bench that still sits out front.
Welcome to Ocean Shores
This sign was carved and placed in 2000 and two decades later, as the kick-off event for Ocean Shores 50th Anniversary, it was officially recognized as a historical artifact. Judy McVay was unable to make the sign dedication ceremony but she sent this to be read on her behalf:
Thank you all for coming. Having made my living as a woman chainsaw carver, I could not have accomplished the volume of works that I've created or help start Sand and Sawdust and other festivals across the State of Washington and beyond without assistance from my family and especially my three talented children.

This particular sign carries fond memories of carving and painting it with my grandson, Alex Chalk whose name can be found carved along with mine. Alex was about nine at the time and I clearly remember telling him that twenty-years from now he'd be able to come back to visit and remember the fun we had. Funny how fast 20-years flies by!

I also want to take the opportunity to express gratitude for the late Dennis Hermey, a prolific artists who worked with me in this region and was instrumental in recommending me for this project. Some of my best work has been accomplished with help from my friends and family.

-Judy McVay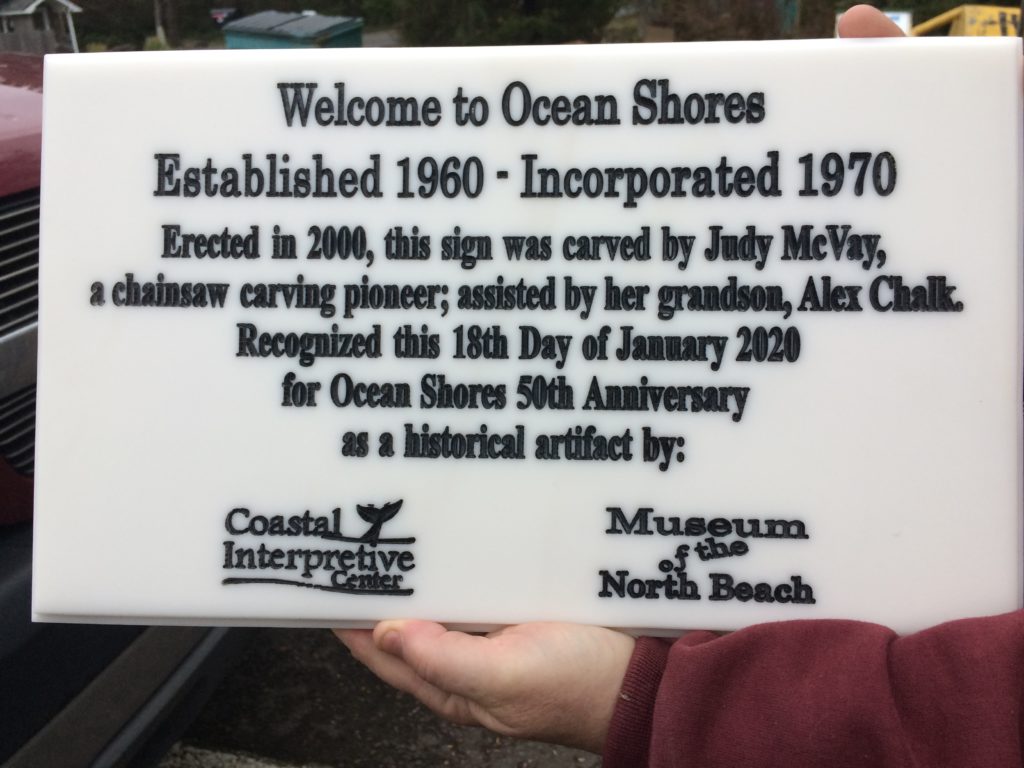 10. Sand Castle at Moby Dick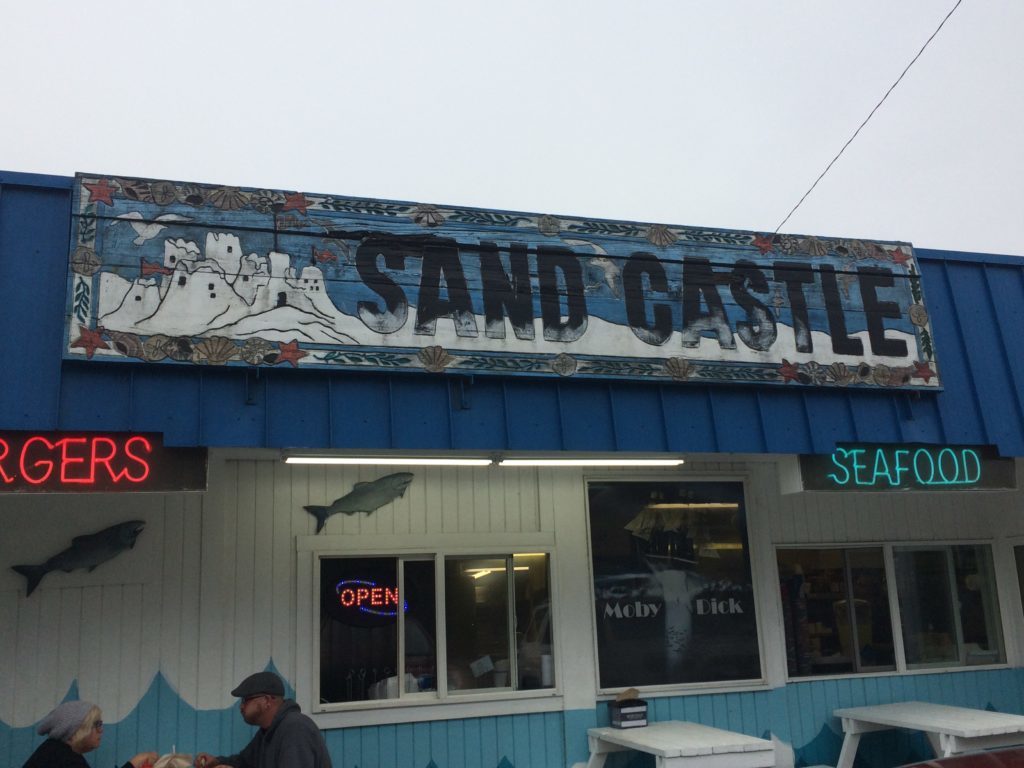 Moby Dick can be found on the east side of Point Brown Ave in Ocean Shores. It's been an institution here for decades but as you might guess from Judy's sign it wasn't always called Moby Dick. It was originally owned by a friend of Judy's and was called the Sand Castle. Recognizably "Judy" it's a multi-panel design that measures about 14-feet long.
11. Ocean Shores Convention Center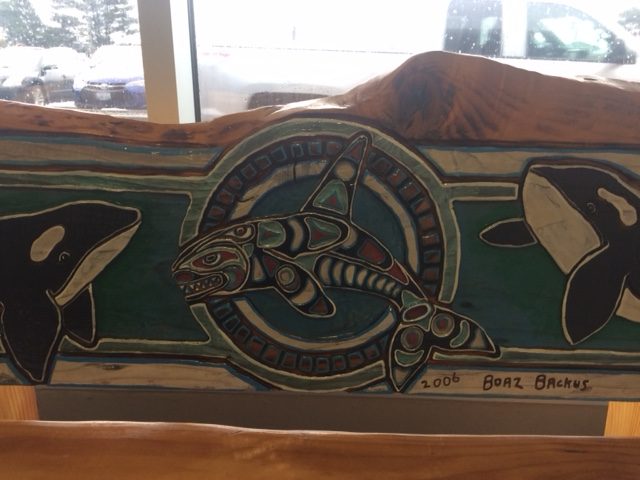 In the eastern vestibule of the Ocean Shores Convention Center and Visitor Information Center, you'll find a set of beautiful benches. They are a collaborative effort between Judy who designed, router-ed, and painted them and son Boaz who did the chainsaw and assembly work. In the vestibule at the other end of the Convention Center, you'll find an additional set of benches carved and assembled by Boaz.
Bonus: Ocean Shores Community Club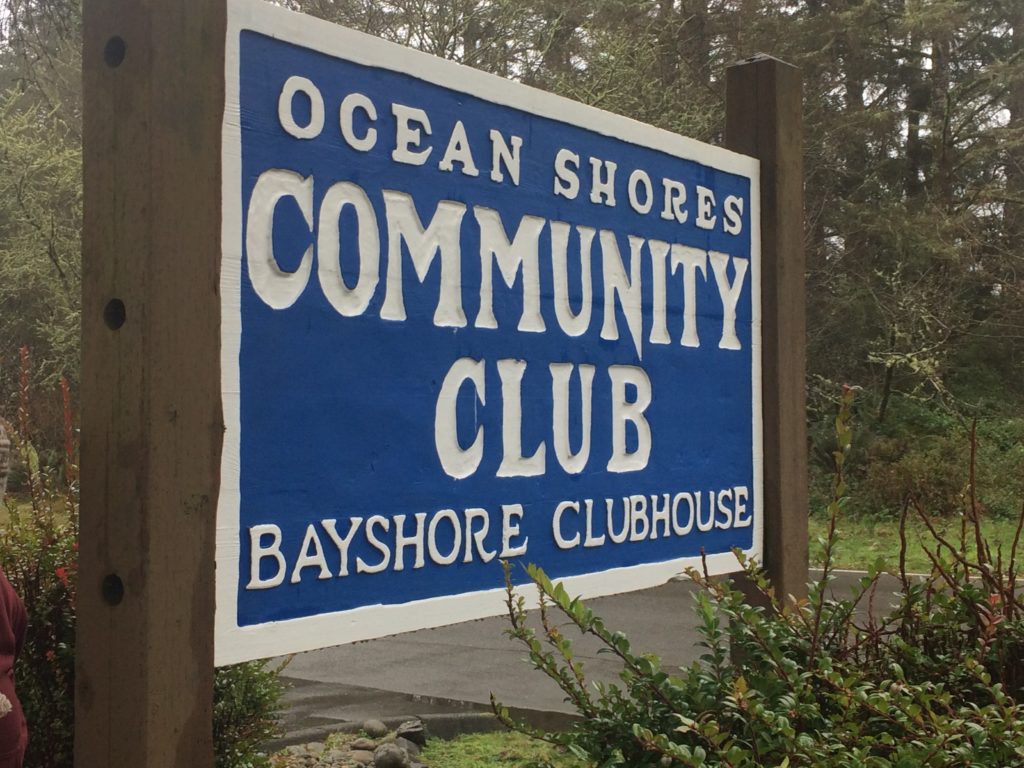 This Community Club sign found at 1016 Catala Ave SE, Ocean Shores very well may be one of the best preserved Judy McVay pieces on the North Beach! Carved on cedar, it's hard to tell this is a signature plank style sign due to the volume of paint that's protected it over the years!
This page moved from HiddenCoastScenicByway.org/McVay