Finding Judy along the Hidden Coast Scenic Byway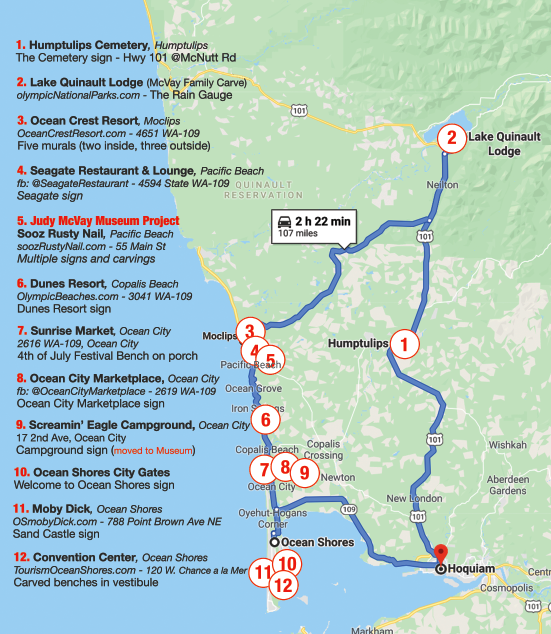 Chances are, if you've visited the Seattle Aquarium, taken an Alaskan cruise, bought a carving from the Washington State Fair, ogled the iconic rain gauge at Lake Quinault Lodge, traveled to Whidbey Island, or driven the Hidden Coast Scenic Byway; you've seen a McVay carving and didn't even know it.
Raised in Spokane with siblings Mike, Pat, and Eileen, the family evolved chainsaw carving into lifelong careers, thereby cementing a place in
history as wood carving pioneers.
Judy McVay, the first woman to win a top placement in a chainsaw carving competition, did so in '81 when the male-dominated sport required wielding heavy, clunky saws! Mike, self-taught and arguably the most known, carved an impressive 50-foot, six-panel mural of Oregon's history for the '64 NY World's Fair. Pat's carvings are prominent features at Seattle area culinary staple, The Crab Pot, and other Pacific Northwest locations.
After graduating from Spokane's North Central High, Judy married traveling logger, Dick Backus. Their first child, Steve, was born in 1959 quickly followed by sister Lynn as the young family moved around
the Pacific Northwest chasing logging jobs. Second son Boaz arrived a few years later and by the late 60's Judy was divorced and struggling to raise three young kids alone and with little means.
Adding to the difficulty, they lived in Humptulips, an isolated area of Grays Harbor dominated by logging and mill jobs not suitable for women in the late 60's.
The family that carves together starves together -Pat McVay
Following a long hiatus abroad, Mike returned to the states and landed at Judy's in the early '70's. Pat joined them soon after. Together, the siblings started a carving business with Mike teaching the finer nuances of signage and art made with a chainsaw. Judy and Mike carved the Humptulips cemetery sign found on Hwy 101 at McNutt road in '72. Signed on the back, it's shaped like the evergreen trees that now, almost 50 years later, tower over it.
In '75, the family relocated to Whidbey Island and set up shop; Judy and her kids returning often to Grays Harbor for carving jobs and to visit. The following year Mike started a decades long tradition of live-carving at the Puyallup Fair and in '81, with
17 carvers signed up, they held the first chainsaw carving competition there.
The 80's and 90's were big for the history of carving. By '87 the family was helping form the Cascade Chainsaw Sculptors Guild to keep carvers connected and informed. And during that period the McVay-Backus clan created and ran carving events across the region that still exist today. Most notably the largest carving competition of its kind in Westport ('90 – '05) and helped start the Sand and Sawdust Festival in Ocean Shores ('97 – present).
Judy's work is focused on large murals, furniture, and signs that hang in some of the most well-known locations on the west coast; Kalaloch and Lake Quinault Lodges and the Princess Cruise Line to name a few.
Now retired, Judy's kids; Steve, Lynn, and Boaz Backus along with their children carry on the family tradition of carving or starving for a living.
Judy McVay on & around the byway
Judy left her mark on Grays Harbor County and especially on the hidden coast. Although we are still documenting samples of her work along both the Hidden Coast Scenic Byway (WA-109 and WA-115) and our neighboring Pacific Coast Scenic Byway, there are some fine examples that can be found in a short loop.
1.
Humptulips Cemetery Sign – Hwy 101 @ McNutt Rd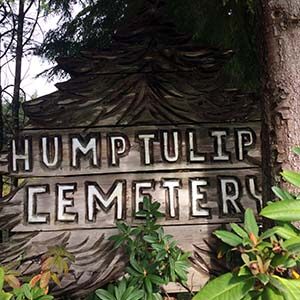 In Humptulips, along US-101 north from Hoquiam, you'll find the cemetery just north of the Humptulips Grocery, on the west side, at about McNutt Rd. The cemetery itself is a peaceful setting, fenced off with a walk-in access gate. The sign was an early (1972) collaboration between siblings Mike and Judy. The back is signed and dated. When placed nearly 50 years ago, surrounding trees were tiny. Now, towering above, they've created a natural roof that has in all likelihood prolonged the life of this wonderful, folk-art, tree-shaped beauty!
2.
Lake Quinault Lodge – Rain Gauge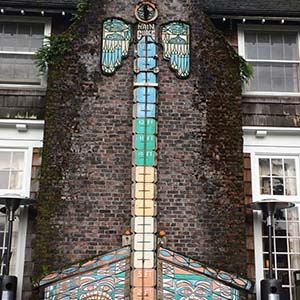 Often mistaken for a Native American carving due to the location, this 23-foot tall totem was commissioned by the Walker family who owned and ran the Lake Quinault Lodge from the mid 1940s – 1988. Based on their reputation, the Walkers chose the McVay family to create this impressive, one-of-a-kind gauge that measures rainfall in feet, not inches. Standing against the grand chimney, impressing visitors since the 1970s, it's one of the most photographed McVay carvings in the world! Check for yourself!
3.
Ocean Crest Resort – 4651 WA-109, Moclips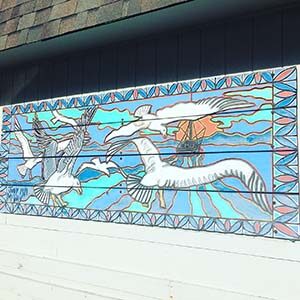 In 1953 the Ocean Crest Resort was but a single family home plus four beach cottages run by Barbara Topete, Ocean Crest matriarch. Now a 45-room resort with gym, pool, formal dining room, gift shop, and awe inspiring view of the Pacific Ocean from a top the ridge at Moclips; second and third generations carry on traditions of hospitality and great food. Avid art collectors especially of local, Pacific Northwest artists, the Ocean Crest has SIX Judy McVay murals on display. Now that's a Judy McVay legacy in the making!
4.
Seagate Restaurant & Lounge – 4594 WA-109, Pacific Beach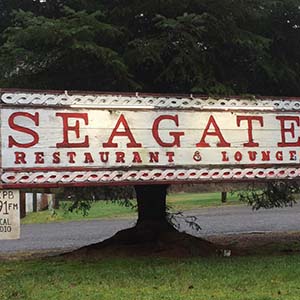 This self proclaimed "unassuming, family-friendly beach shack featuring classic American eats, a full bar & a pool table," can be found just behind the wood carved Judy McVay sign on WA-109 outside the town of Pacific Beach, just before Moclips. Originally blue and beige, the sign has been repainted over the years but there's no mistaking the signature basket weave along the edge, the 16′ length, and the long panel construction, all of which are dead giveaways that Judy carved it! And if you look closely, her signature can be found at the bottom right.