Not sure about you, but when I leave town a favorite pastime is going to local antique shops and thrift stores. Big surprise, I know. 🙂 And to find them, I do exactly what you do… Google Search. The problem with that is a lot of times all sorts of big travel websites come up; Yelp, Travelocity, and others with their list of top 10's and so often shops are left off the list because clearly, the person writing isn't from the area.
As a local and an antique shop owner, I've visited all of these and here's what you can expect from antique shops and thrift stores on the Hidden Coast Scenic Byway. (Plus a couple extras in Aberdeen that you'll pass along the way to the north Washington Coast.)
Aberdeen Goodwill – 1103 E Wishkah Blvd, Aberdeen, WA
Located in the mall with Staples (as you enter town from the east) this Goodwill is clean and stocked with all the usual suspects. There are some good deals to be had but as a picker, it's not the "honey hole" that some Goodwill stores are known for.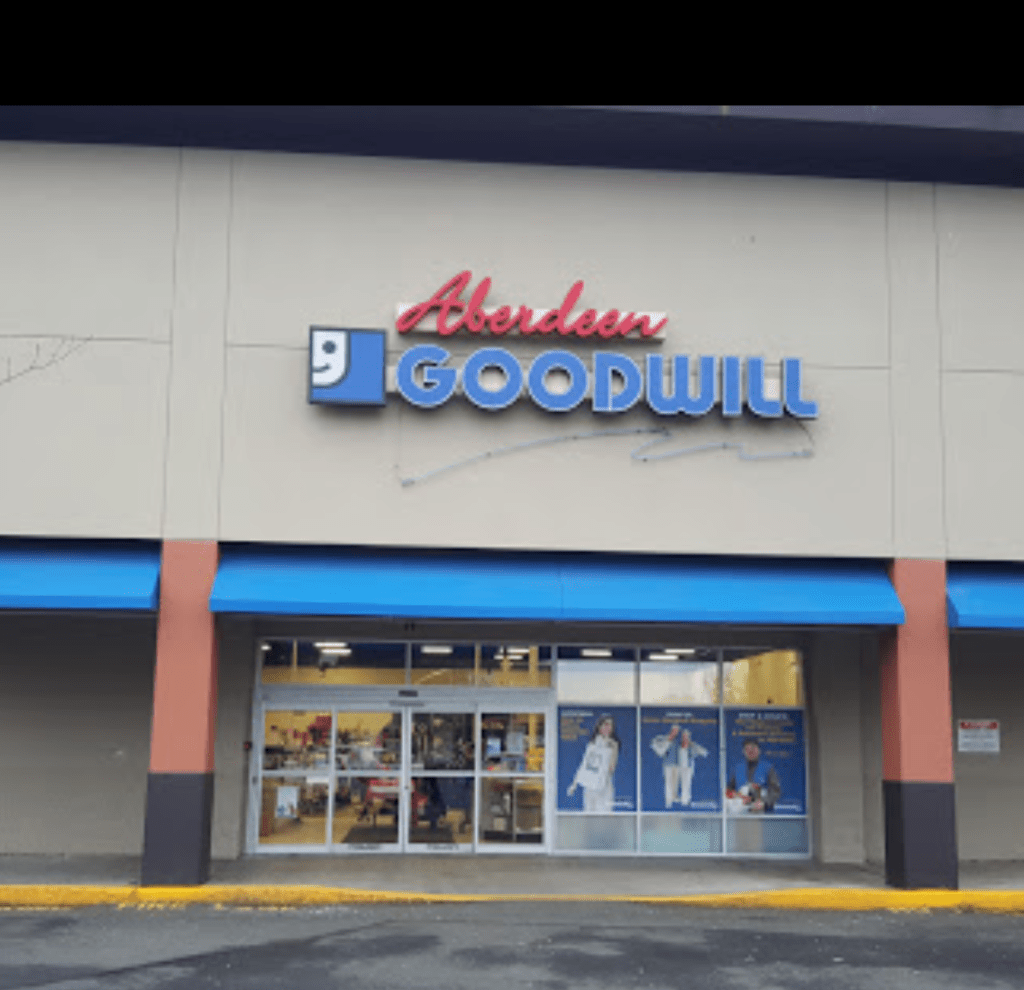 Thrift City – 301 B St., Aberdeen WA
This gem is great for clothing with a wide variety available to choose from and revolving sales based on tag color. They also have some decor items, furniture, electronics and tools. I very rarely find anything here that would be a good fit for Sooz Rusty Nail. But I wouldn't discount it as stop-worthy if you're looking for deals.
Dream Secondhand Store – 500 E Market St, Aberdeen, WA
Be prepared to dig! This place is stuffed to the gills with everything imaginable from coffee cups to spare parts for your washing machine. The aisles are difficult to navigate due to the piles of stuff but if you can get around it, there are treasure to be found at great prices!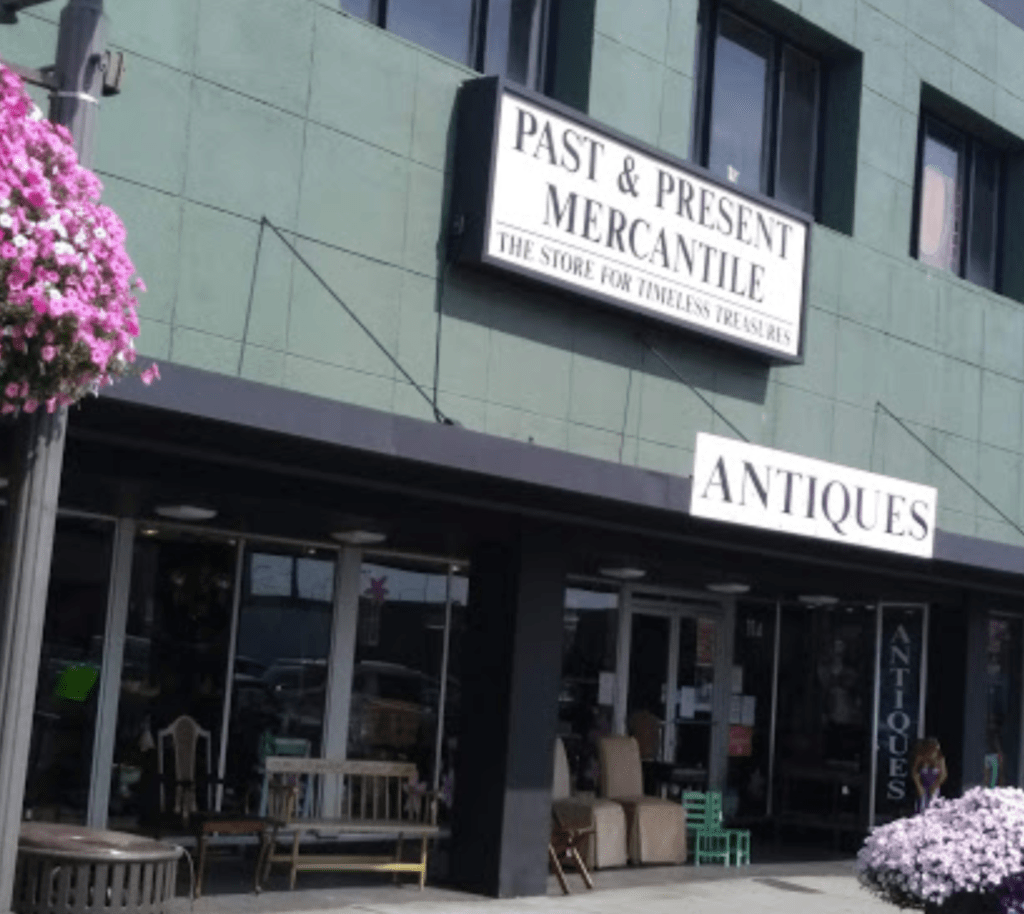 Past and Present Mercantile – 114 E Heron St. Aberdeen, WA
Located in the heart of downtown Aberdeen, Past and Present is a typical antique mall with multiple vendors who have their goods arranged in a "booth" environment. There's a nice variety to choose from, the workers are friendly, and it's fun to browse!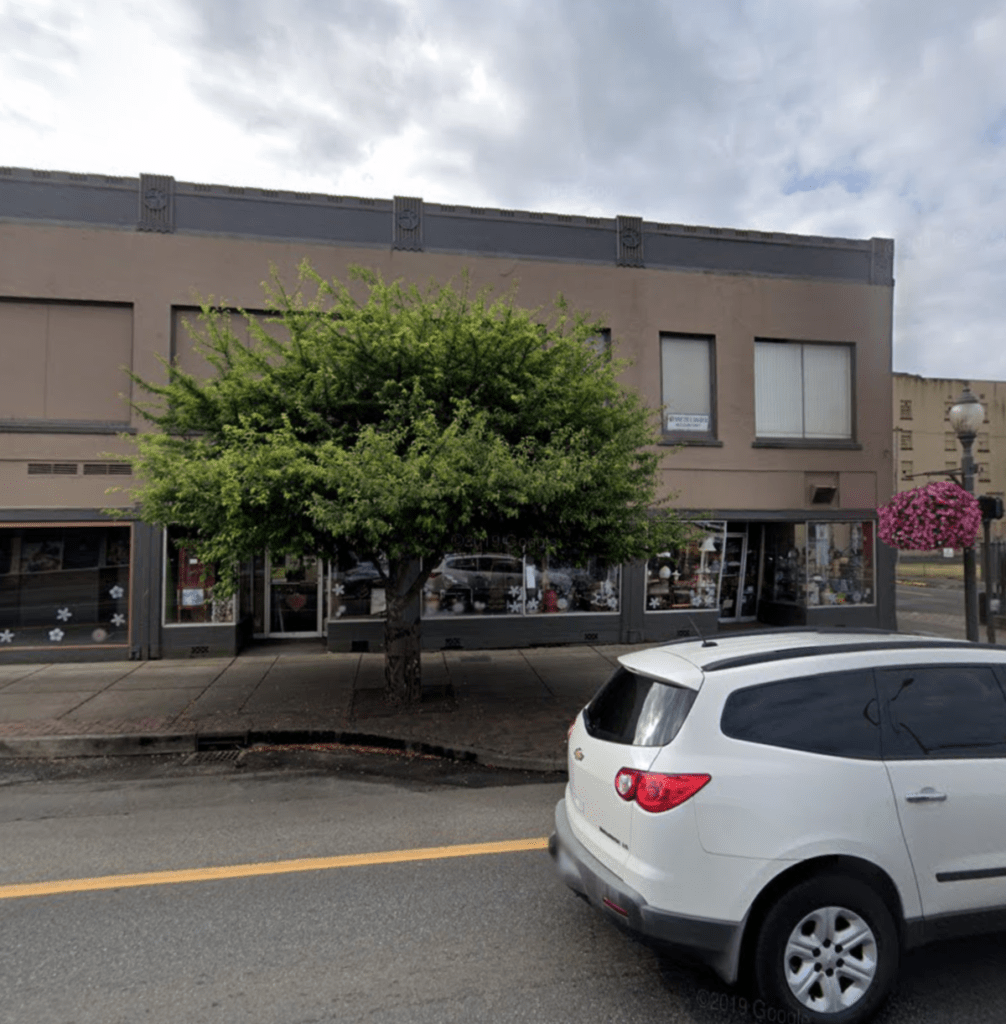 Eccentric Peddlers – 121 W Wishkah St, Aberdeen, WA
Another (but larger) antique mall on the west end of downtown Aberdeen, this place has something for everyone! Dishes, collectibles, fabric, man-cave stuff, and a vintage candy machine that I've been thinking about acquiring as a fun add-on for my shop.
Keepsake Cottage – 519 N Maple St, Aberdeen, WA
It's really hard to tell if this place is too small or there's just too much stuff in it! Be warned, it is impossible for two people to enter or exit at the same time due to the amount of collectibles stacked high. But on the bright side, there's a lot to look at and good deals to be had. Easy in and out when headed to the ocean.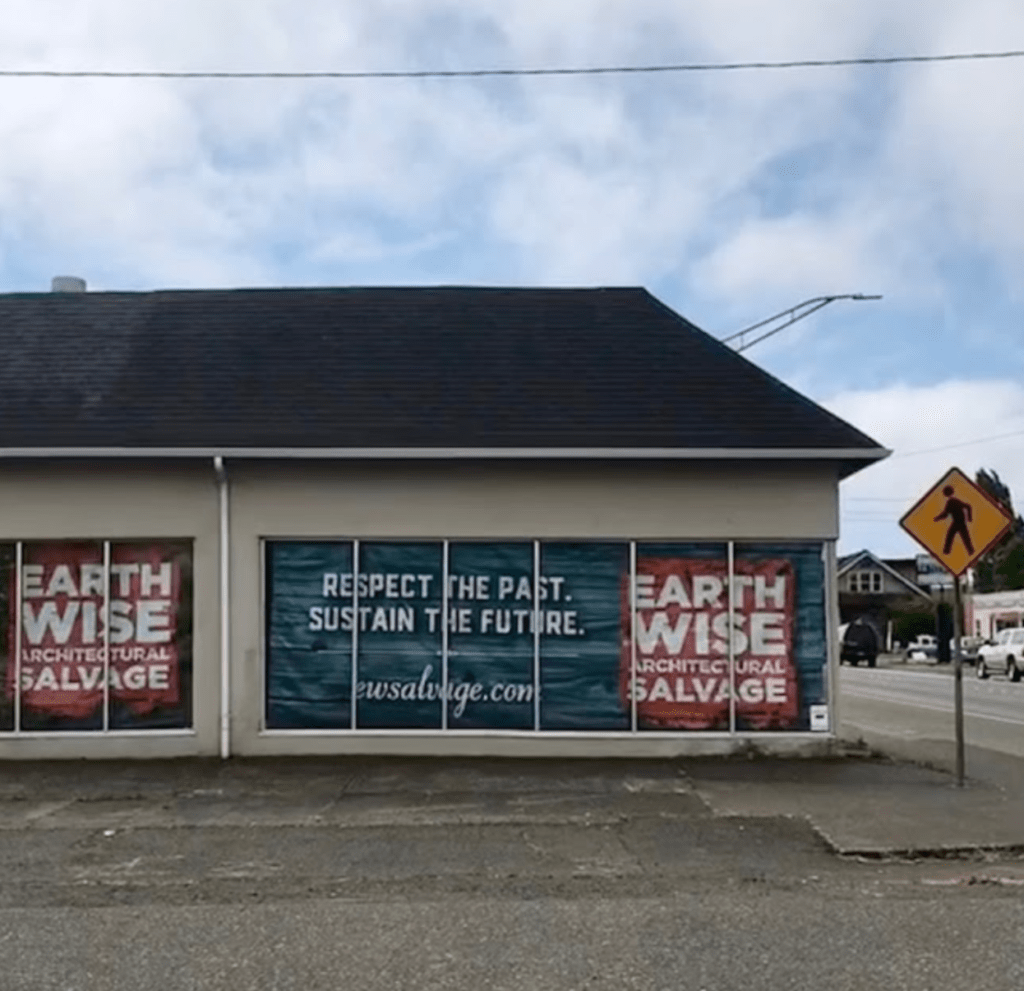 Earthwise Architectural Salvage – 416 N Park St, Aberdeen, WA
The younger sibling of Earthwise Tacoma & Seattle, this place has a ton of very interesting finds but expect to pay dearly for them; that's the biggest complaint I hear when people mention them while browsing my shop. Large space, great regionally salvaged selection but high prices.
Habitat For Humanity Store – 3005 Simpson Ave, Hoquiam, WA
This one can be a goldmine or a bust depending on what you're looking for and when you hit it. I've literally walked away paying nearly nothing for some interesting vintage items and other times have left empty handed. Relatively new, I think it's less picked which makes me excited to go back.
Old School Thrift – 27 Robertson School Rd., Hoquiam, WA
Housed in the old Newton School, owner Randy Denney runs this thrift shop to generate funds for the ongoing restoration. Be prepared to dig, it's packed full of thrift items alongside antiques and carries clam shovels and other tools. Randy is a world class storyteller and makes the shopping experience fun.
Ken's Antiques – 702 Simpson Ave., Hoquiam, WA
I'm honestly not sure if this place has an actual name, there's no sign on it but its huge on the inside and stacked floor to ceiling with treasures that owner, Ken has collected over the years. Pricing is hit or miss and you can tell by the price which items he doesn't actually want to sell 😉
Anchor Ave Thrift – 848 Anchor Ave NW, Ocean Shores, WA
A very nice thrift shop for such a small town, you can tell the community really supports this place through donations. Money from selling used goods helps support the food bank. It has a little bit of everything; good prices, friendly staff and easy to find, just off the beaten path.
Senior Center Thrift – 885 Ocean Shores Blvd NW, Ocean Shores, WA
Lots and lots and lots of stuff to be found here! Sales support the Senior Center and the shop is run by volunteers. You'll find all the usual; clothing, decor, electronics, knickknacks, and more. Good prices.
Flea Market Finds – 124 Capstan St, Ocean Shores, WA
Located across the street from the back end of the Ocean Shores Convention Center, some of the items are a bit spendy but most are reasonable and the selection is eclectic; varying from clothing to fine china. The inventory changes frequently which makes it fun to frequent.
Nate's Vintage – 339 Damon Rd., Ocean Shores, WA
New to Ocean Shores, Nate originally had a shop in Seattle up until late 2019 when he relocated to the beach and took over Gordon's Antiques across from North Beach High School. He's got fun stuff, vintage, regional, lots of t-shirts and a great mix of goods to satisfy every style.
Treasures by the Beach – 877 Point Brown Ave NE, Ocean Shores, WA
On the small side, this little shop packs in the goods and there's a lot to look at! Lots of vintage coca cola, and knickknacks plus nautical and art items, it's definitely worth the stop if you're in town!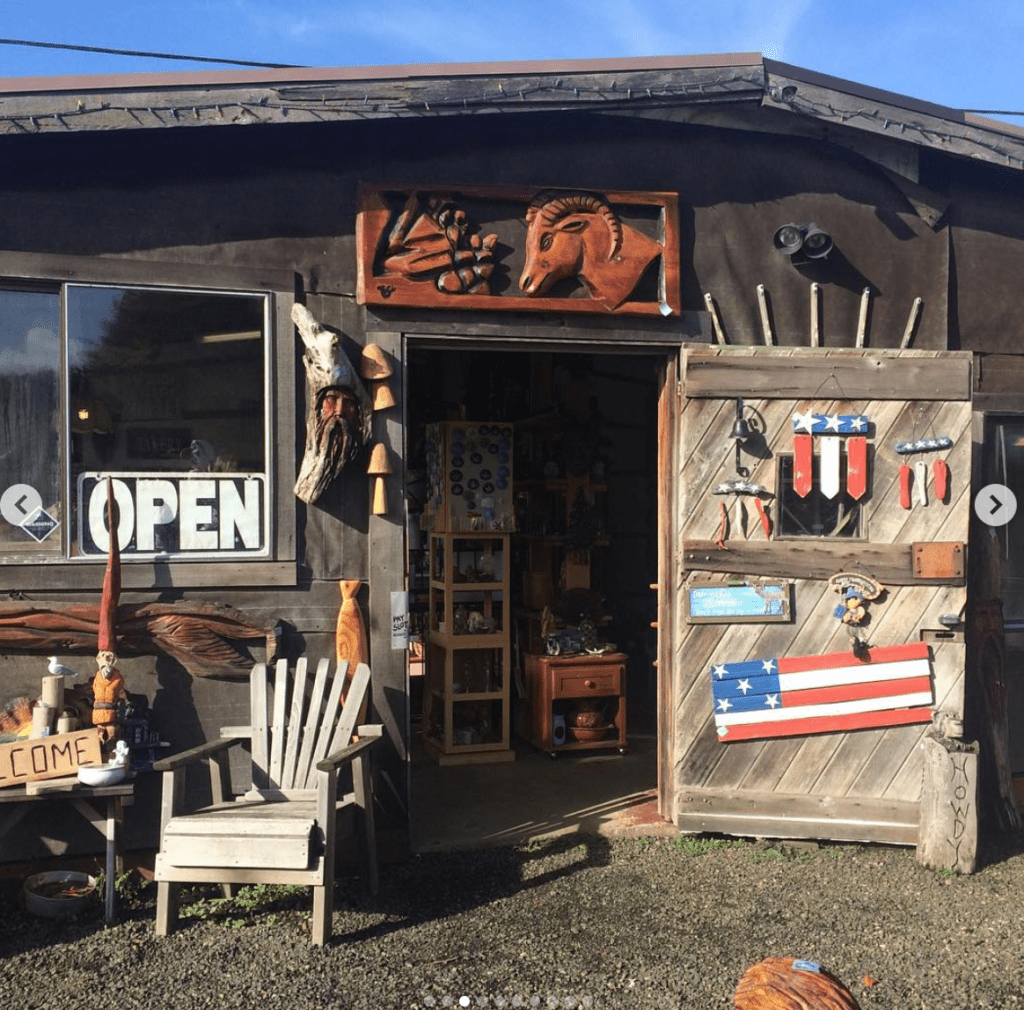 Ocean City Marketplace – WA-109 @Ocean City

Known as the place to find chainsaw woodcarvings, it's not just about woodcarving! You'd think the stuff for sale can only be found in the yard but inside, where you pay, doubles as an antique shop with a large variety of vintage items; art, glass, tools, and beachy decor from yesteryear.
Wacky Warehouse – 48 Main St., Pacific Beach, WA
So much to do and see in this one location! Next door to the Main Stage at Pacific Beach where peeps gather and fun is had, Wacky's is the heartbeat of this little town. He has everything from appliances to pipe fittings, and record albums, to a room housing the PB radio station. Do not miss this experience 😉 totally worth it.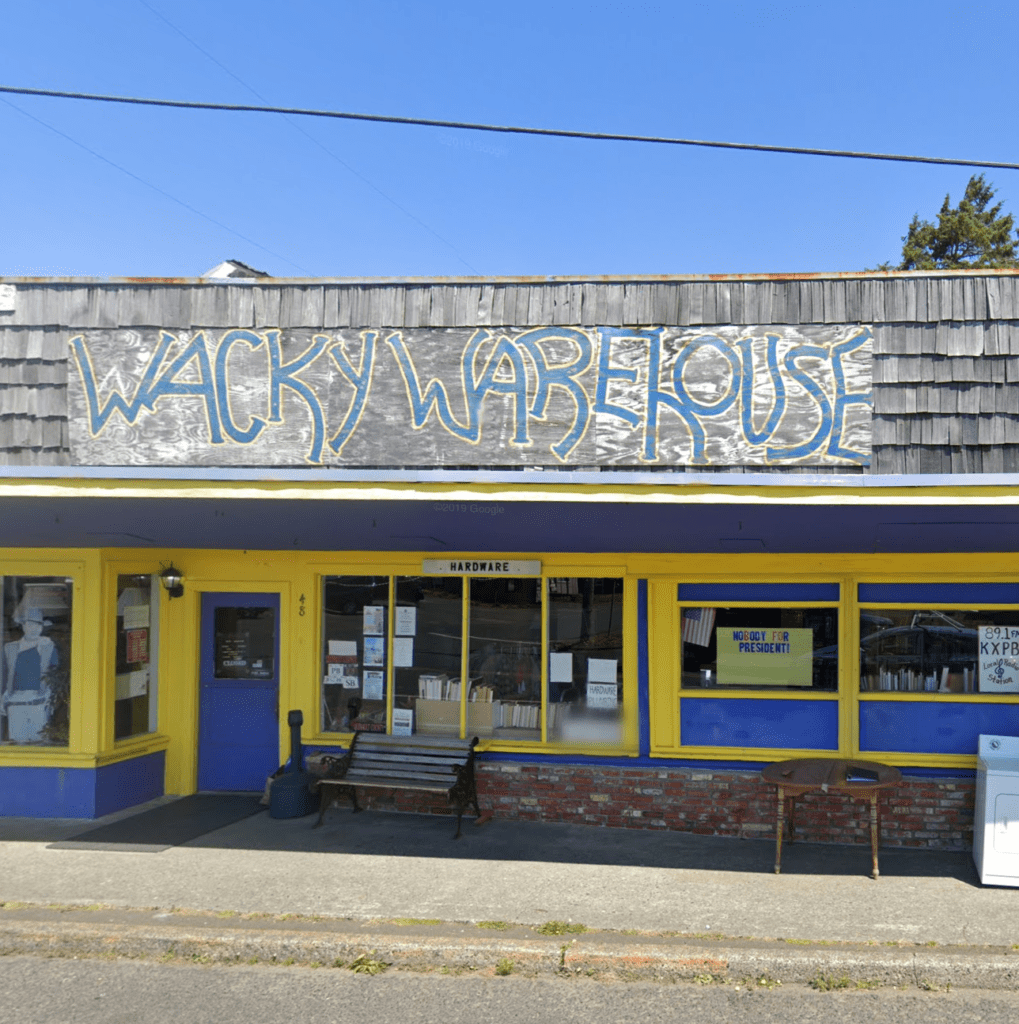 Sooz Rusty Nail – 55 Main St., Pacific Beach, WA
Home sweet home! If you're in the area, I'd love to meet you, show you around the shop, and answer your burning questions only locals know 😉 New this year to Pacific Beach (relocated from Ocean Shores) we're super excited to be a part of revitalizing this Main Street USA.
Gull Wing Inn – 4852 Pacific Ave., Moclips, WA
This is a teeny-tiny antique shop attached to the Gull Wing Inn at Moclips, WA. Operated by Carla and John, they also furnish all their rooms with antiques they've found here and there. 15-year residents at the beach, they built a tall tower for their guest which sports one of the best views around.