A little backstory on the historic Dorothy Anderson cabin at Seabrook.
Dorothy Antonnette Anderson
In 1926, at the age of 19, Dorothy Antonnette Anderson, an immigrant from Nessa, Norway, along with the thousands of other city dwellers, poured into towns along the Hidden Coast Scenic Byway to take a break from the hustle and bustle. Many traveled by train from Seattle to Hoquiam and on to Moclips and Pacific Beach. Others traversed miles on unpaved roads in a Model-T or perhaps a newly minted Model-A, all in the name of rest and relaxation on the Ocean's edge. 
Tourists galore
It might be hard to imagine the crowds gathering out here when you see how things are today but Pacific Beach and Moclips were both extremely popular tourist destinations complete with massive hotels, shopping, and dining readily available. Copalis Beach was also a happening hangout, as was Ocean City.
To give an idea of what it was like, it wasn't unusual for thousands of people to arrive via train for a weekend of fun and the beach was, as it is today, drive-able. In fact for a long time, the beach was the only "road" between what's now Ocean Shores and Pacific Beach.
The Dorothy Anderson cabin
Although nobody has documented and publicly shared information about where Dorothy stayed while she visited that first time in 1926, we do know that she came for a clam dig. Not surprising since our beaches have always been famous for razor clamming. What has been documented is that the very next year (1927) Dorothy returned, purchased two lots in Ocean City, and began building her own cabin from wood and other parts she salvaged and dragged home from shipwrecks found washed up on the beach.
Dorothy, a picker and a scrapper
Dorothy built the first cabin to be her home. Over time, she built seven more that together made up 'Dorothy's Tourist Harbor,' one of the area's finest resorts. Passing away in 1976 at the age of 84, Dorothy is buried at Fern Hill Cemetery.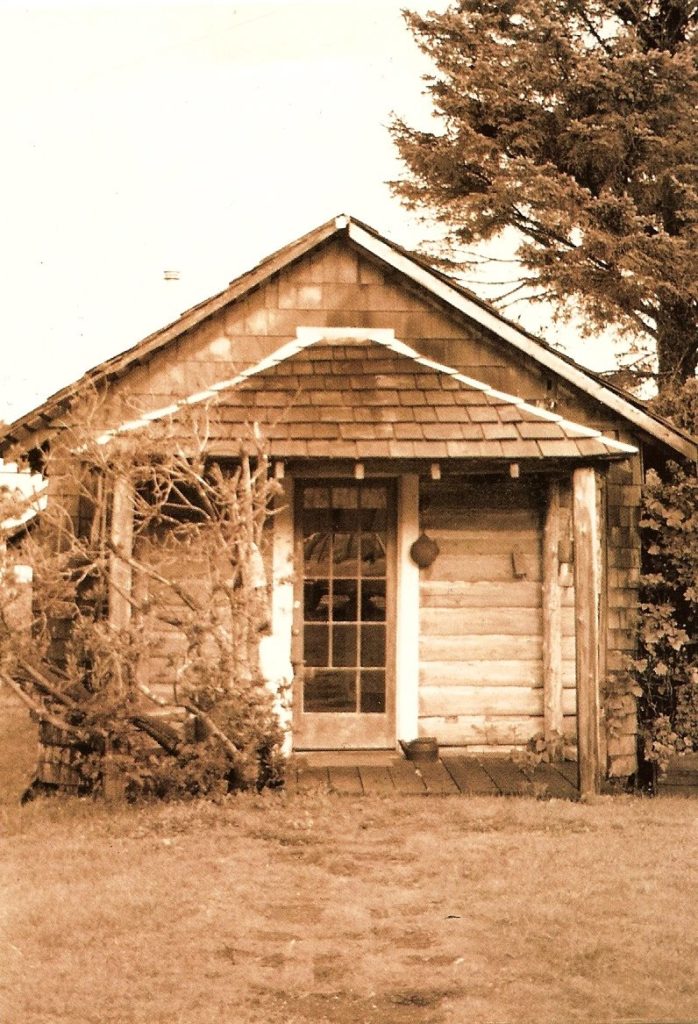 Dorothy Anderson cabin, the oldest house at Seabrook
It's unknown what happened to the majority of Dorothy's cabins, but the one that was her home remained until 2004, where Ocean City Storage is now located; WA-109 just south of the Sunrise Market. For years it served as head quarters of the North Beach Historical and Preservation Society and tourists could stop in and find out more about the history of the area. The Historical Society folded in 2003 and the property owners where Dorothy's cabin sat, provided a one-year grace period for relocating the cabin in hopes of preserving it. As the year came to a close, a group of hearty locals including Boaz Backus who built, owned, and operated Ocean City Marketplace where the chainsaw carvers are today, and Gary Hulet, a beloved lifelong resident who owned a construction company, banned together and moved it temporarily to a site near by. (BIG thank you for preserving this piece of history!) 
In 2002, Moclips-by-the-Sea Historical Society (parent organization of The Museum of the North Beach) was formed. So, naturally in 2004 with the other area historical society closed, they were selected as custodians of Dorothy Anderson's cabin. With help from Seabrook, the cabin moved to its final resting place at 127 Meriweather St., in 2007 and was fully restored and doubles as a tiny museum. During restoration, copies of  Seattle Post Intelligencer newspapers from 1929 were recovered from the walls, presumably used as insulation and all salvageable portions remain in tact; the beadboard ceilings that Dorothy salvaged on the beach, plus the front door, wood burning stove, log walls, and other aspects. Inside it has been furnished with period appropriate decor and displays some of  Dorothy's personal effects including her own art work.
Syttende Mai, a nod to Dorothy's heritage
Sometimes referred to as "Grunnlovsdagen" (Constitution Day,) Dorothy's native Norway celebrates its national holiday on May 17. Similar to how we call ours "4th of July," most Norwegians call theirs "Syttende Mai," which translates to "Seventeenth May." It's also sometimes referred to as "Nasjonaldagen," (pronounced exactly as it looks 🙂 nas-jon-ald-age-n) which means "national day."
At Seabrook, it's cause for a parade through the iconic town; a direct nod to the Norwegian tradition whereby children lead parades carrying flags. In Norway, elementary school students arrange the parades complete with marching bands and in Oslo, the parade includes over 100,000 participants! But regardless of how big or small, they all parade through their communities making stops at homes of senior citizens and war memorials along the way. As you might imagine, Seabrook's Syttene Mai parade begins at Dorothy Anderson's little slice of history.
See you in May for the Parade… or maybe sooner? The Hidden Coast Scenic Byway, find us if you can, I Double dog dare ya! -Sooz