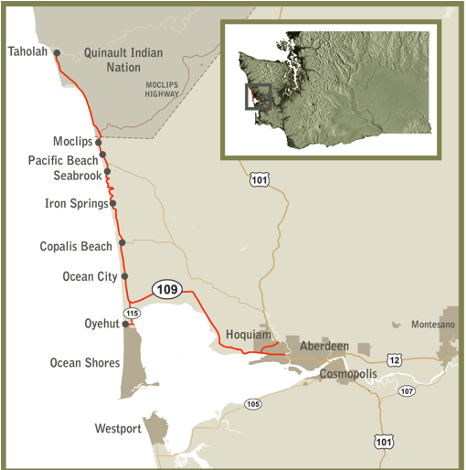 Finders Keepers
Following SR-109, on the western most edge of Washington State, you'll be delighted at what you see on the Hidden Coast Scenic Byway. A community-supported labor of love since 2011, it's an adventure of a lifetime!
Get off the beaten path
Experience rugged country, forests, rock cliffs, rivers, and coastline as you meander along the north shore between the Hoquiam historic district, through Hogan's Corner, turning south on SR-115 to the popular tourist destination of Ocean Shores, before heading north up SR-109 through beach towns that lead the way to Quinault Indian Nation's village of Taholah.
so many things to do, you might just have to come back!
Let Your Hidden Adventure Begin!
For thousands of years, the lush landscape of the Hidden Coast Scenic Byway has been known as the place where our rain forest meets the sea. Rivers and streams support an abundance of salmon; razor clams grow hearty under flat sandy beaches, shorebirds cover mudflats, and grey whales can be seen migrating in spring and fall.
Rugged and steep hillsides covered in vegetation and watered by heavy rains rise dramatically from the shore. Home to Native Americans and settlers, the people of this region have thrived for centuries on the ample supplies of natural resources cultivated from our prairies, forests, and oceans.
find us if you can!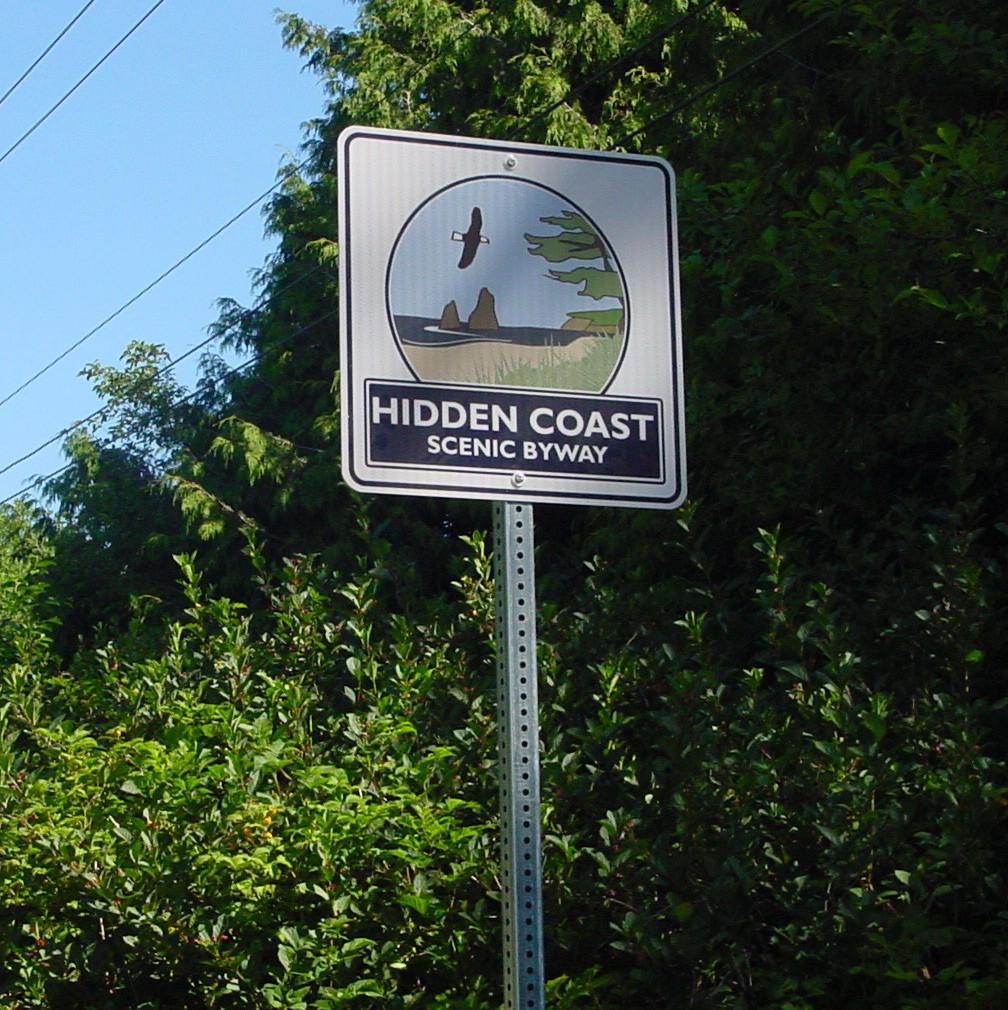 cities and towns along the hidden coast scenic byway
Hoquiam
The name Hoquiam is Native American in origin and translates as "hungry for wood."  Incorporated in 1890 this old logging town along with neighboring Aberdeen are affectionately known as the "twin harbors."
Home to the Loggers Playday Festival held annually in September, the event attracts loggers from all over the world who compete in axe throwing, pole climbing, and other courageous and adventurous "games."
Although Hoquiam appears to be much smaller than Aberdeen when driving through, it's borders encompass a considerable land mass that includes the sparsely populated area west from Hoquiam High School to Hogan's Corner, and northwest Hwy 101 westward to Copalis Crossing.
Ocean Shores
Purchased from cattle rancher, Ralph Minard, by a group of Seattle businessmen for $1 million in 1960, Ocean Shores was first sold as a development before residents voted for incorporating it as a city in 1970.
Once a fabulous getaway for Hollywood elite, crooner Pat Boone wooed his friends to the area for music, golf, and festivities throughout the 1960s.
Home to the 1965 shipwrecked SS Catala, a boatel moored off the south end of the peninsula, the beached and canted remains were left for tourists to climb around on until it was dismantled in the 1980's.
With six miles of beaches and five beach approach roads open to vehicles who dare to drive in the sand. If you think the ocean is the main attraction, you're correct!
That said, there are also two lakes (Duck and Minard) plus a 23-mile canal system open to boating, kayaking, and stocked with trout. And a nature preserve called Weatherwax that's perfect for meandering through the woods and bird watching along the shores of Duck Lake.
Ocean City
Located approximately halfway along the Hidden Coast Scenic Byway, Ocean City is home to Ocean City State Park and several private campgrounds, small motels, and VBRO accommodations.
While it lacks a restaurant and much in the way of shopping, you will find a small grocery store, a drive-thru coffee cabana, and the Ocean City Marketplace. Built by famous woodcarving auctioneer, Boaz Backus, the OCM sign (pictured left) was carved in the 1990's by his mother, Judy McVay who pioneered the art form beginning in 1970.
Several carving festivals are held yearly here; Burning Bear in February, the Memorial Day Carve in May, 4th of July, and the Labor Day carving event in September. All events showcase carvers and include auctions but it's only Burning Bear that features a giant carved bear that is set on fire at sunset as part of the fun!
Copalis Beach
Copalis Beach may only take up 3.8 square miles but it packs a lot of natural attractions into it's small footprint! A stretch of beach world famous throughout history for razor clamming, people pour into town during clam digging season.
With the Copalis River running through it, fishing is abundant and a short kayak or canoe ride up the river will lead you to the famous Ghost Forest of Copalis.
The Ghost Forest is a natural phenomenon caused by a Cascadia subduction zone earthquake so powerful that it instigated a tsunami in Japan. As salt water back-flooded the Copalis River, it cascaded into trees, killing them instantly. The dead trees still stand today, 500 years later, as a tourist attraction that's only accessible by water craft.
Home to the Green Lantern Pub where you can grab a burger and a pint, and the Copalis Grocery where organic choices are abundant, Copalis Beach is short on hustle and bustle but long on peace and relaxation!
Seabrook
What started out a little more than a decade ago as a coastal develpment project lead by Casey Roloff has slowly become the darling of the North Beach.
A very Cape Cod vibe, this intentionally walk-able town is lined with crushed oyster shell pathways, art installations, amazing vistas, expansive beach access, walking and biking paths through the woods, and glorious sunsets.
Complete with a Town Hall that doubles as a charming wedding backdrop, there's a lot of action packed into this small venue. From shopping to restaurants and an arcade opening soon, literally anything you need for a fantastic weekend getaway can be found here — except a vintage and salvage shop… for that you have to go a mile up the road to Sooz Rusty Nail at Pacific Beach!
Wine bar, food trucks, beer garden, ice cream, doggie treats, massage, a pool, and one of the oldest houses on the Washington coast can be found here!
Pacific Beach
Pacific Beach is the go-to spot for those who prefer the OG Washington Coast over the Cape Cod vibe of Seabrook. The Navy Base resort boasts accommodations for military personnel and the restaurant, bar, bowling alley, and bike rentals are available to military guest and the general public. And for campers, there probably isn't a better camping experience in the state than the State Park Campground that's literally right on the beach. Yurt rental available for those without RVs.
I relocated my shop here after first opening in Ocean Shores because the town is on the rise and there are a lot of complimentary shops to mine. Whacky's Warehouse is a "hardware store" like none you've ever seen and home to the PB radio station. Sue's Treasure Trove (the other Sooz in town) has a wide variety of things you probably can't live without!
New as of recently, the Clipper Inn pub is open, the D&K Grocery is being transformed into an art gallery and event center, and rumour has it a nursery is opening across the street from me. Of course, the You & I is still the only gas station around, Beach Daisy is still putting smiles on people's faces, and the Surf House still has Seattle's Best!
Moclips
Back in the 1920's, Moclips was a bustling hub of beach vacationing, often hosting 5000 visitors every weekend who poured into passenger trains at Hoquiam's station and rode them to the end of the line at Moclips. After the Moclips depot closed in the mid 1930's, Moclips slowly spiraled into the sleepy little seaside hamlet it is today.
Arguably one of the most iconic views on the North Beach, the Ocean Crest Resort has been wining and dining visitors for decades. Equally iconic are St. John's Chapel By The Sea with colorful windows expertly crafted into the a-frame lines of the front of the building, and not to be missed is the quaint little Museum of the North Beach which is filled with artifacts from the area as well as stories to share.
The Moclips Grocery has burgers and take-and-bake pizza and everything else you might need. As for retail shopping look no further than the Gull Wing Inn where the owners decorate their rooms with vintage items and have a small, cozy vintage gift shop set up in their check-in area. Also in Moclips is the glass studio of the very talented Kari Wulf whose pieces can be purchased directly from her… or at Sooz Rusty Nail 😉
Taholah
Taholah is special. Not only are the views absolutely stunning but the ground upon which it stands has been in tribal hands since long before settler arrived. With beaches closed to visitors, unless you have a permit, they are pristine and understandably well protected by the community.
Currently Taholah is mainly situated close to the eroding coastline where the Ocean meets the mouth of the Quinault River. Due to this climate change related situation there is an extensive town relocation project in the works, moving homes and businesses to higher ground.
Taholah is at the western edge of the reservation which spans eastward toward Lake Quinault. It's also the headquarters of the Quinault Indian Nation and home to the tribal museum, which is accessible to the general public and houses one of the most extesnsive and beautiful collections of native basketry.
North of Moclips but south of Taholah there's a turn off for Moclips Highway that bisects the countryside and connects WA-109 to US-101 just south of Lake Quinault. Included as part of the Hidden Coast Scenic Byway, just off the road lies the entrance to the Quinault National Fish Hatchery where visitors can learn about the three million fish they spawn each year.
find antique shops and thrift stores on the hidden coast scenic byway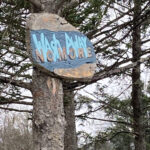 In 2018, before settling on the North Beach we put an offer on the most adorable, small, round-ish house we'd ever seen. Stocked with remnants of a simple mid-century modern life, Phyllis whose husband hand-built it, lived there until 2017 when she passed away at the ripe old age of...
Read More
NEED TO BE PICKED OR HAVE A BURNING QUESTION?